A smudgy shot has been making the rounds lately, showing the soon to be announced Lumia 535. Microsoft is expected to announce the entry level Lumia next week - on November 11.
Attentive readers however have spotted that next to it on the blurry image there is a yet-unseen Lumia phablet. The size comparison to the Lumia 535 and the Lumia 1520, which is also seen in the shot, suggests it should have a screen of around 6 inches. The design resembles the Lumia 1320 (with the Nokia logo gone), leading some to believe it may be a Lumia 1330 of sorts.
And it would not be outlandish to suggest that this new Lumia might see the light of day together with the Lumia 535 on November 11.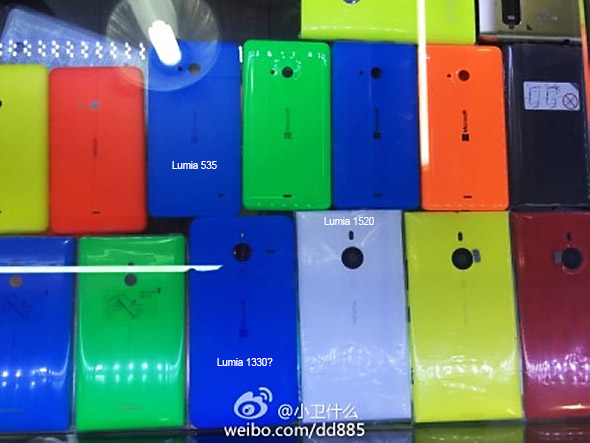 The Lumia 535 recently leaked in great detail but this is the first time we hear about a Lumia 1330. The Lumia 535 should have a 5-inch screen and a Snapdragon 200 chipset.
V
I hope the next Lumia will be like this.... ...50mp camera xenon triple led flash and front 8 mp.with flash ....5.7 inch display.... ....with....amoled gorilla glass 4...water and dust proof...UHD display... ....nfc...wifi....infrared....wifi direct...
?
Looks slightly smaller than 1520. 5.7" perhaps? Hopefully updated camera 6.7mp or 8mp with OIS quad core snap 200 or 400 and 1gb ram and 8gb onboard? Accel, proxi and compass? One can hope.
R
I hope the next Lumia will be like this Octa-core 1.25GHz (Turbo up to 2.50GHz) 55MP autofocus with optical zooming accessories compatibility (8564x6423 for 4:3 and 8560x4815 for 16:9) Both 16:9 and 4:3 supporting 4K Photo Shooting and Vi...
ADVERTISEMENTS