We were expecting Samsung to decorate its Galaxy S5 smartphone with the usual spin-offs like the Active, mini and Zoom. What we didn't expect was for Samsung to shift to a whole new naming scheme but according to a new leak the Galaxy S5 Zoom will be called the Galaxy K Zoom.
And to solidify that he know what he's talking about the source has a photo of the actual Samsung Galaxy K Zoom's back revealing some more interesting details - the lens, flash and some of the design.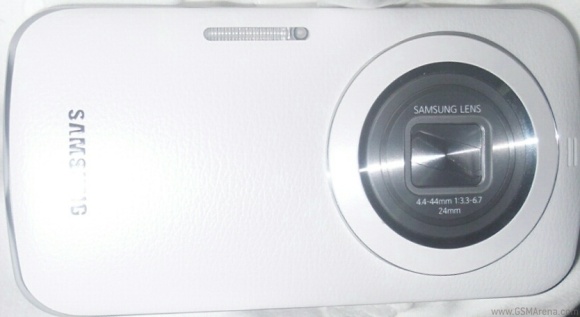 Samsung Galaxy K Zoom
Just as previously reported the zoom lens really doesn't protrude from the back panel when not in use, which should help loads with using the device as a phone.
There's also a Xenon flash and the leather-like texture on the back, which is a nice step up from the unimaginative and rather smudgy gloss of old. The inscription on the lens also confirms the 10x zoom covering the 24-240mm range in 35mm equivalent. There's much else but the source does stick to the 20 MP resolution.
The rest includes a 4.8" 720p display, Android KitKat with Samsung's TouchWiz UI. We're also expecting either a quad-core 1.6 GHz chip or the new Exynos hexa-core with two Cortex-A15 and four Cortex-A7 cores.
?
Wow....Sure...Saying you owned some Samsung camera 13 years ago and then got a better cannon is totally and excuse for your original non factual comment and now this rude negating non factual one... Congrats on troll abilities.
?
WHERE are the nokia dudes ?....In 3 Years this will have 20x zoom, 40mpx and 5.5 inches screens !!
C
I don't comment stuff without basis unlike some people here. I owned a Samsung Digimax (Was called back then) way back 2001-2003, and I never knew image quality can be better until I owned a Canon IXUS/IXY in 2004.