Unsurprisingly, it appears that the Samsung Galaxy Note II will follow the suit of its Galaxy S III sibling and add more colors to its lineup. A press image of a black N7100 has emerged, thus pointing in this direction.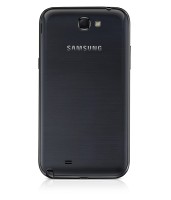 A black Samsung Galaxy Note II addition makes perfect sense - we reckon that plenty of people will opt for the stealthier color option of the Android powerhouse. A darker color scheme is sure to at least make the device appear smaller.
There is no word on when will the new color scheme become officially available. MWC 2013 seems like a fairly safe bet to us.
Update: It turned out that the image you see above is a quick Photoshop exercise. The source of the photo has confirmed that it is fake. However, don't be surprised if you see a black Samsung Galaxy Note II make an appearance in the near future.
D
I don't understand though, my friend bought last week a black Galaxy Note 2 so I assumed they had them in that color but now i read this O_o wtf ??
R
This is a fake information. Look closely at the led, it's pretty dimmed. This image is just digitalised! Source: Engadget
?
A black Note II that would be totally sweet mmmmmmmmm
ADVERTISEMENTS