Now that Microsoft is vigorously pushing Windows 10 and the new Universal Windows Platform for apps, it is only natural that the first development efforts come from the US giant itself. In light of this, there seems to be a new Skype UWP app on the way. It is still in beta, but the folks at mspoweruser.com got their hands on an early copy on both Windows 10 PC and Mobile for a first look and some screenshots.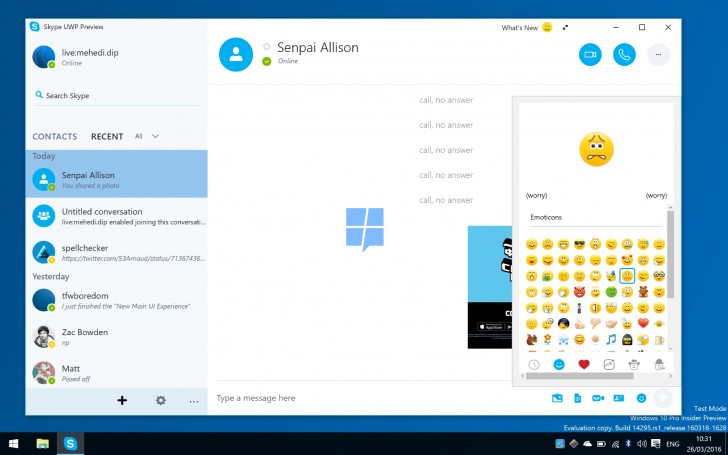 As a quick reminder, in theory, the code running on both the PC and the mobile environments should be identical with a self-adapting interface. This is the essence of the new Universal Apps platform - write ones and deploy across the whole Microsoft ecosystem (desktops, phones, tablets and even the Xbox). This makes examining applications like this all that more intriguing, as it offers some first-hand experience as to how well the cross-platform approach actually works.
It would appear that at this stage, the app is working a lot better on PC than on mobile, the latter still being somewhat laggy. This is probably the reason why Windows Insider subscribers on PC will be getting a taste of the new Skype, as early as the next Redstone build, whereas a beta release window on Mobile is still unannounced.
As for the aesthetics and experience the app offers, it comes a lot closer to what long time users have come to expect from the native client. Also, it definitely works a lot better than the current Skype functionality baked into the Windows 10 Messaging app. The look and feel are the same, there is the familiar color scheme, as well as all the emojis, push notifications and call features. Even the more advanced Skype commands work.
And speaking of the Windows 10 messenger, as well as the native Win32 Skype client, we can't help but wonder how the new Universal app is going to fit into the mix. The latter of the pair should be perfectly safe for compatibility reasons if nothing else, but the former might actually get methodically phased-out and replaced. This is probably a good thing too, as it currently offers a lacking experience at best.
D
ahahah I don't think hes from outer space but I think you are.
D
na matey not all windows users use skype, but I think the figure will be higher as I know iPhone and android users that use skype too.
D
I like skype being intergrasted into the windows 10 and windows mobile platforms, this new app looks like a departure from that. The real problem for me is the intergrated skype has no seettin=gs at all, you cant send video, pics or links via skype ...
ADVERTISEMENTS