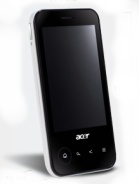 ?
Anonymous, 27 Jun 2010Unbelievable! Resistive screen in 2010!! Why, Acer, Why??!Sorry, but resistive screen is great and much better than a capacitive one for people who need to work with their phone.
A capacitive screen is a gadget which doesn't allowed productivity.
The first use of a mobile telephone set is to communicate (voice and data) and not to show photos or to listen music.
When you have hundreds of emails to answer each day, the best way to do that is "handwriting", using a "handwriting recognition program".
This is impossible with a capacitive screen.
10 years ago, a lot of people were using Palm PDA and were using "letters recognition". It was considered at that time as a major improvement (even it was basic recognition). Currently "handwriting recognition" is accurate and "handwriting" is much, much faster than typing on a physical keyboard (like on a "Blackberry" or others) and of course than using a virtual keyboard.
I currently use "Calligrapher from Phatware" with recognition modules for English, Spanish, French and Portuguese language and it's really accurate.
I hope that resistive screen will have a long life for people that need to work with a mobile phone and not only to play.

?
anyone bought it yet?
any comments on the performance?
and what is the problem with the resistive screen (for noobs)?
J
Hey I'm thinking of picking one up in Malaysia too. Anyone know the price? and the sound quality?
M
KIVA, 22 Feb 2010in singapore very cheaphow cheap is cheap in Singapore? thinking to get a unit in Malaysia too. hard to find.
?
maria, 21 Feb 2010any idea about the price of the model? http://www.shefeekj.com/acer-betouch-e…specifications.html259 EUR
Total of 72 user reviews and opinions for Acer beTouch E400.