Out of the blue
Acer CloudMobile S500 review: Out of the blue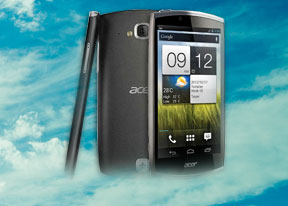 Gallery with AcerCloud integration
The Acer CloudMobile S500 comes with Acer's own Photo app, which syncs with the AcerCloud service, and automatically displays the media you have synced. It also has the ability to display media on other DLNA-connected devices.
Once you select an album, images are arranged into tiled thumbnails and sorted by date.
When viewing an image, you can use pinch gestures to make it bigger or smaller. There are several options for sharing as well as rotation.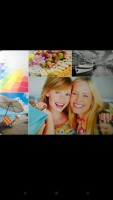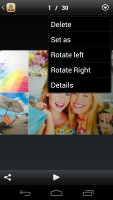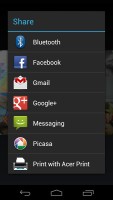 Selecting an image in the Photo app
Other than that, the Photo app's usefulness is fairly limited.
Fortunately, there's also the ICS Gallery, which displays both images and video, and gives you the ability to edit images and share files. It offers more functionality than the Photo app, and renders it quite useless unless you're planning on using AcerCloud. The Gallery app can also sync automatically with your gmail account.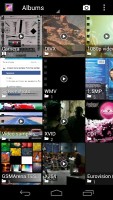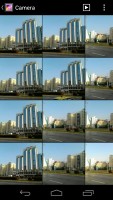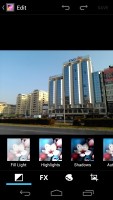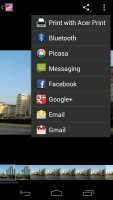 The included ICS Gallery app offers much more functionality
Video player doesn't support subtitles
Acer's video player app has good support for numerous codecs and resolutions, including 720p and 1080p. Unfortunately, there's no way to load subtitles (they won't load automatically either), and movies with the DivX codec refused to play.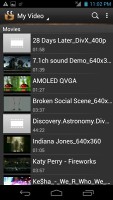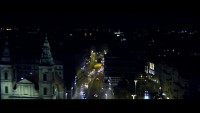 Watching a video on the Acer CloudMobile S500
There's also the Movie Studio app which allows you to edit clips shot with the phone or imported. You can add music or still images to them as well.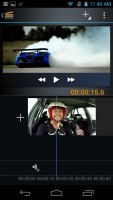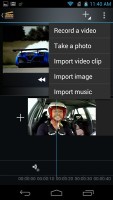 You can edit clips using the Movie Studio app
Overall, you shouldn't have much issue playing or editing videos with the S500 as long as you steer clear of DivX.
Standard music player
The music player included with the S500 provides the standard ICS functionality with no extra bells and whistles. Like the gallery, it can automatically include music stored in AcerCloud, which is useful.
Whenever a song is playing, the album art is displayed on the careen alongside the standard music controls. You can swipe to the left or right to switch between tracks.
There are equalizer settings available as well, although accessing them can be tricky. There is no shortcut to the Dolby Mobile equalizer from the music player, and a notification shortcut only appears when you are playing a track. For all the other times when you need to access it, Dolby Mobile can be accessed from the Settings menu.
It offers the ability to adjust treble or bass settings, and set equalizer settings for both music and video. Dolby Mobile gives plenty of preset equalizers for many different genres, but there is no custom option to set your own.
There are no music controls which appear on the lockscreen while you're playing a song, but there is a "Now Playing" shortcut in the notification area.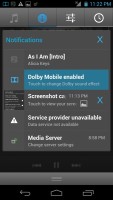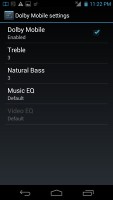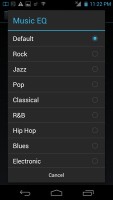 The Dolby Mobile and music player shortcuts in the notification area • Equalizer settings
FM radio with RDS
The CloudMobile S500 is equipped with an FM radio, which requires a plugged-in headset to function as an antenna. Swiping in either direction seeks the next radio station in range, while pressing the arrows on either side of the displayed station shifts in 0.1 MHz increments. There's also the ability to play the radio through the speaker, although you still need the headphones plugged in.
The reserved radio shortcut in the notification area also becomes activated when you use the radio app, although you can't launch the radio from there.
Nice clean audio output
The Acer CloudMobile did quite well in our audio output quality test.The smartphone demonstrated some impressively clean output and garnished it with average volume levels.
When attached to an active external amplifier, the Acer CloudMobile produced achieved excellent readings all over and had no real weaknesses to its performance.
Impressively, there's very little degradation when you connect a pair of headphones. The frequency response deteriorated a tiny bit, but still remained pretty good, while the stereo crosstalk spiked to average levels.
| | | | | | | |
| --- | --- | --- | --- | --- | --- | --- |
| Test | Frequency response | Noise level | Dynamic range | THD | IMD + Noise | Stereo crosstalk |
| Acer CloudMobile S500 | +0.11, -0.10 | -81.6 | 81.7 | 0.0056 | 0.021 | -80.0 |
| Acer CloudMobile S500 (headphones attached) | +0.21, -0.42 | -81.0 | 81.2 | 0.027 | 0.082 | -55.4 |
| Motorola RAZR i | +0.04, -0.29 | -88.3 | 88.3 | 2.023 | 1.627 | -88.4 |
| Motorola RAZR i (headphones attached) | +0.64, -0.13 | -88.1 | 88.1 | 0.117 | 0.461 | -57.4 |
| HTC One S | +0.13, -0.10 | -91.0 | 90.6 | 0.0089 | 0.015 | -92.6 |
| HTC One S (headphones attached) | +0.13, -0.04 | -90.7 | 90.6 | 0.011 | 0.065 | -74.0 |
| Samsung I9100 Galaxy S II | +0.04, -0.09 | -91.4 | 91.9 | 0.0042 | 0.066 | -89.7 |
| Samsung I9100 Galaxy S II (headphones attached) | +1.05, -0.22 | -90.0 | 90.2 | 0.013 | 0.647 | -49.4 |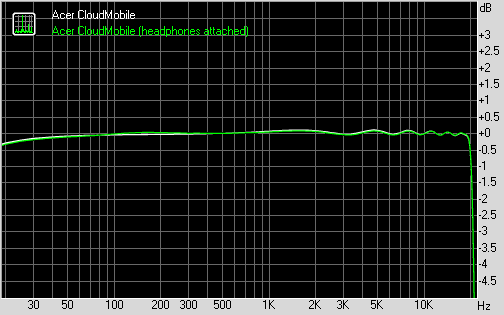 Acer CloudMobile frequency response
You can learn more about the whole testing process here.