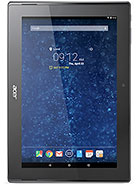 ?
I've had many problems with this tablet. First of all, very early on many tiny stuck pixels appeared in the middle of the screen, and there was nothing we could do about it. After about 2 years the charging port completely burned up and took the tablet's charging circuit with it, rendering the tablet practically useless. We were able to fix it up with a couple of TP4056 chargers mounted inside, but the battery percentage doesn't work now, so it's not very useful. Quite dissapointed, I was impressed by the build quality and the 1080p screen seemed great at first.
M
We purchased one in early 2016. It is a reliable tablet, with very clear screen resolution. At that, perfect for viewing movies and so on.
On the downside, the responsiveness to touches (input) is sometimes slow or behaviour is erratic, especially when the tablet is plugged to power cable.
The REAL DRAWBACK for us, however, is the missing microHDMI-Connector. Therefore we are not able to connect that device to our TV. Newer Acer - Models (e.g. A40) are really preferable in that respect.
D
First tablet ever purchased. A lot of bang for your buck at $149.00. installed the 64gb memory card as well. Pros are price, clear video, large screen, easy to hold, lots of available apps. Cons are screen glare which makes watching videos difficult, my Apple earbuds are very hard to fully plug in and even then the sound is not great, just average, constant reminders that system memory is low (however that is because of too many open apps. The biggest concern I have is the battery life. Not sure how long it actually lasts but can go as low as 50 percent after just 2 hours use and then takes 2 hours to fully charge which is a long time. Additionally that two hours is while not using it because if you are charging and using it takes longer and it gets too warm at the USB port.
s
shiv sharma, 24 Apr 2015 another crap in the android tablet market! plz avoid to by gadgets of low specification!!quit whinning, tell us what is the downside of this tab, dont act like a kid
D
Bit slow.
Constant reminders that "The system memory is low" despite a 64Gb memory card.
I've also find the touch screen is a little unresponsive at times.
Good value overall though.
£119 reduced to £99, at Tesco, here in the UK.
s
i want to buy this tab any budy can suggess me abt that tab with it's prics
a
can update the list of acer product?there is the new ace iconia talk s and i would like to see people's reviews of it
D
Come on Acer, why did you have make this device with no cellular support, that means I can't use it, cause I don't have internet otherwise.
S
shiv sharma, 24 Apr 2015 another crap in the android tablet market! plz avoid to by gadgets of low specification!!quit whining ......
Total of 15 user reviews and opinions for Acer Iconia Tab 10 A3-A30.