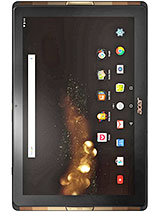 C
Anonymous, 05 Aug 2016Does tablet has GPS? Because it's not writtenBonjour, Oui il y a GPS

Hello, GPS YES
d
Suppose to be a micro SD slot,mine is sealed with a piece of rubber with a screw, took out screw and tried to lift cover there is not a SD slot underneath, though it was sold to me that it had one, there is a HDMI slot and the SD slot is supposed to be right next to it. Manual also states that it has one. Does anyone else have the same problem?
P
Its wifi only, no 3g or 4g. Its really just a budget tablet, costs under 100 in cash converters.
C
wwww, 21 Jul 2016it's eating the battery for couple of hours, its awful, don't bye itUmm... for me, battery is working normally like it should. I don't know what's wrong with yours?!?
C
Best tablet i've ever had! Absolutely brilliant price/value and it looks beautiful too :)
Total of 48 user reviews and opinions for Acer Iconia Tab 10 A3-A40.