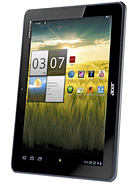 B
It's a good tab but am only a bit disappointed with the fact that it doesn't support any form of voice communication and also with only a front camera
B
It's a good tab but am only a bit disappointed with the fact that it doesn't support any form of voice communication and also with only a front camera
s
I am very upset this tab has front-facing camera only.
You can only take pics of yourself. It's the only tab I've seen where you can't take pictures at parties. This really up set me because my sister got the same one only in a different color box but same price and she can take picture, why can't I. That was the whole reason why I got the darn thing, now the store won' take it back & I can't get in touch with the company. sucks!!!
D
This is a very nice tab in budget. I use this from last 3-months. no problem. completely handy for use. good battery, nice touch, superb HD quality video. N with android 4.1 its just amaze. 1 thing negative is colors its 256k. But in this price u never find a 16m. again in all condition just superb. For specification 8/10, price 7/10, Hardware quality 8/10, design 8.5/10, Quality 8.5/10 n overall- 8.5/10. If u think a tab with android and 25k and 10" then go for this only.
T
AnonD-100039, 12 Jan 2013Acer and HTC have THE worst marketing... such a good tablet pass almost unheard of! What a shame!On paper it's a good tablet but it falls short of comparing with other tablets in comparable price ranges. The battery life is somewhat of a hindrance when you consider my previous point. It's not that it's not advertised it's just overshadowed. But I personally really like the fact that it has Tegra 3 and it's quad core. Acer sells this in their Ebay store refurbished for $240 USD. That's a really good deal if you can overlook a few shortcomings. Overall, I think it's a good tablet but it doesn't stand out compared to others. But a 10.1'' screen with great multimedia/gaming specs at a decent price is sure to attract some people.
D
I've bought it today for my kids. Rooted it, all went ok! Work super, even if the battery is quiet small and the display isn't the best in town, but it is working very well for multimedia. Sopcast works very fluent, also. All in all, a good experience!
Total of 8 user reviews and opinions for Acer Iconia Tab A210.