Acer had a modest showing at the MWC - the Liquid E1 was there, but it was announced a month earlier. In fact, the company didn't announce anything new, though the president of Acer's Smartphone Business left some clues about a new device – a phablet - in an interview for the official MWC paper.
The phablet is called Acer Liquid S. There are no specific specs mentioned, here's what the president of the group had to say in this advertorial: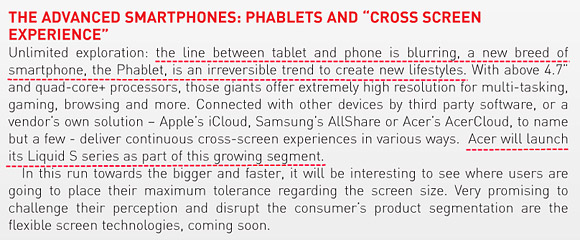 Acer currently does not have a quad-core phone (or phablets), only its tablets have quad-core processors. So, this phablet, the Acer Liquid S, will be their first non-tablet quad-core device.
But what exactly does "phablet" mean nowadays anyway? We don't agree with the 4.7" and above screen size definition by Acer. Recently announced 5-inch screens are pushing the boundaries of the definition. It was last year's flagships that first hit the 4.7" mark - phones such as the Samsung Galaxy S III, HTC One X and others.
The Galaxy Note II and the Optimus G Pro with 5.5" screens might be the lower-end of the phablet range, while the Asus Fonepad puts the maximum at 7". So the Acer Liquid S can be anything in between.
Well, this was as vague as an announcement can get, while still counting as an announcement. You can bet we'll be on the lookout for more specific info on the Acer Liquid S.
M
Acer must first take care of their community, and I'm talking here about their products support (see their official support "community")
S
When it comes to gaming, it depends on the gameplay itself. Games like Angry Birds will need you to hold your device with both hands right? It's the other way around when it comes to other simpler games with different gameplay. But I won't say everyo...
i
according to gsmarena, original note is not a phablet, but the galaxy 'tab' 2 is? well, imo phablets should be between 5" & 6"(n yes, 6.1" can be counted in too) above that its just a tablet with calling functionality
ADVERTISEMENTS