Multimedia department needs an update
Before we enter the gallery, let's take a look at Acer's Media Server app first. With its help you can define which type of multimedia (video, photo, and music) will be shared when the device is connected to a Wi-Fi network.
The gallery automatically locates the images and videos, no matter where they are stored. Images and videos located in different folders appear in different sub-galleries that automatically get the name of the folder, which is very convenient - just like a file manager.
Right next to the name is a number indicating how many items are in that folder. Each sub-gallery has a thumbnail, which displays either the latest image (if the folder contains less than four images) or four thumbs if there are at least four files in this folder. There is no way to change these viewing options.
From the main Gallery two new shortcuts allow you to start recording videos or capture images. Also, the flip orientation shortcut is now gone as there is system-wide UI auto-rotation.
There is the option to mark multiple images for mass delete but you can't copy or cut more than one file at a time. Scrolling thumbs of images up and down is very smooth and quick. Caching images may take quite a while when you open a gallery for the first time, but once that's done they load almost instantaneously' even if a folder contains thousands of them.
To zoom in and out use the two dedicated buttons at the bottom.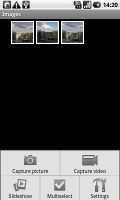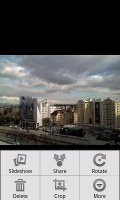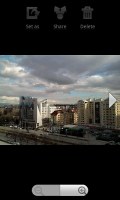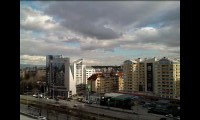 Viewing an image on the Liquid
Two video players, still no DivX support
Liquid features two players you could use to watch videos - Videos and the nemoPlayer. There is even a third option - the gallery, which we talked about just a minute ago.
The Videos app has a very simple interface - all videos are displayed in a list (no option to filter them) and the ones you select are played in landscape mode. DivX files aren't supported.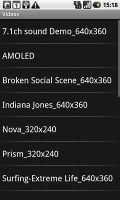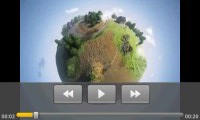 One of the two preloaded video players
The nemoPlayer was meant for video, music and images. It sports a cooler interface but can't play DivX either. You can access the nemoPlayer from the menu or just use the dedicated nemoPlayer widget. Strangely, the so-called Media player widget starts the nemoPlayer as well, so it's just another option to get to your videos, songs or images.
Music player
The first screen of the music player has four large buttons, which offer the four main ways to search your music collection - by artist, album, song or choose one of the playlists you've created.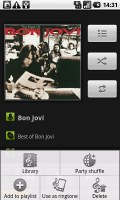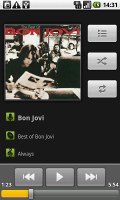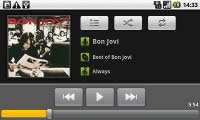 Nothing new in the now-paying menus
The music player has that great feature that allows you to quickly look up a song in YouTube or through Google search by holding down a finger on a song. What's even better, the YouTube search results are loaded Straight into the YouTube client.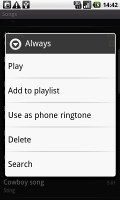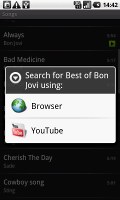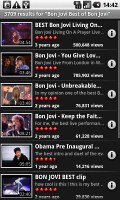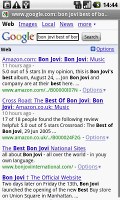 The Search in YouTube/Browser feature is great; we haven't seen anything like it in other platforms
Besides gradual typing for searching a specific song, there is an alphabetical slider that appears on the right side of the track list.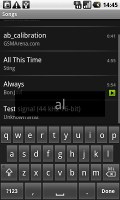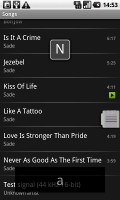 Gradual typing and alphabetical search tab are the options when looking for a specific song
There are still some shortcomings of the music player that need addressing though. There are still no equalizer presets, nor any alternative visualizations.
Audio quality is disappointing
Unfortunately the Acer Liquid audio out disappoints with quite uneven frequency response. In addition the handset is one of the quietest we have seen as far as the volume in the earpiece is concerned.
The rest of the readings are pretty good so it's not all bad but with that kind of frequency response you shouldn't expect much. An error in the range of +- 1dB is nothing to worry about but when we are talking a deviation of 9 dB - you don't need any sophisticated equipment to hear that imperfection. Things are so bad that it might as well be a fault with our particular unit.
Here goes the results table:
| | | | | | | |
| --- | --- | --- | --- | --- | --- | --- |
| Test | Frequency response | Noise level | Dynamic range | THD | IMD + Noise | Stereo crosstalk |
| Acer Liquid | +9.82 -3.26 | -82.3 | 81.4 | 0.023 | 0.087 | -80.3 |
| HTC Hero | +1.04 -2.13 | -91.3 | 92.3 | 0.458 | 0.902 | -95.8 |
| Motorola MILESTONE | +0.16 -0.06 | -74.1 | 74.7 | 0.014 | 0.040 | -73.1 |
| Acer neoTouch | +0.08 -0.24 | -84.1 | 84.9 | 0.022 | 0.065 | -81.8 |
| HTC Touch Diamond2 | +0.12, -0.60 | -86.9 | 89.1 | 0.022 | 0.191 | -86.8 |
| Samsung I8000 Omnia II | +0.17 -2.63 | -88.3 | 88.2 | 0.0024 | 0.133 | -32.8 |
| Samsung i8910 Omnia HD | +1.29 -2.74 | -87.6 | 86.6 | 0.0023 | 0.255 | -85.2 |
| Apple iPhone 3GS | +0.01, -0.05 | -92.1 | 92.1 | 0.0035 | 0.011 | -95.0 |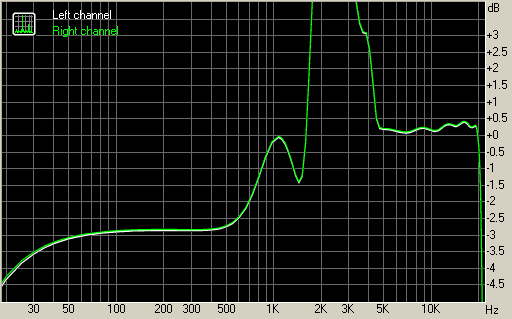 Acer Liquid frequency response
You can learn more about the whole testing process here.