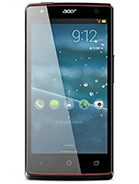 A
well if this is price under £200, it will sell well. but, we will see
P
I wonder if Acer fixed that 4gig onboard memory management fiasco that is on the Liquid E2

Let me remind you - they partinioned the 4gig so there is only 800meg available for your apps, but there is still a unusable blank 1.6gig on the phone

Not all apps can be moved to the SD card - no response from Acer about this during the past year on many forums - they basically crippled the phone

If they fixed it for this phone, it should be available for the E2 as well

Otherwise stay clear - Acer support suck


?
It's a shame it only has 4GB internal storage and the not so fast processor
t
Anonymous, 20 Feb 2014What does TBD stand for???back button is like LG G2...it have too... really suck phone, little change from e2 to e3... i will not change my e2 to e3
?
whith this specs Acer Liquid E3 is suck, I hope beacuse new year 2014 new chip new display or this elementary specs:
1.Display.- 4.7 inch HD -- IGZO
2.Memory.- 2GB RAM
3.Chipset.- MediaTek MT6592
4.CPU.- OCTA-core 2 GHz
A
Slim bezels, slim phone, nice design.. if the final specs are good it could be a very successful mid-ranger..
Total of 215 user reviews and opinions for Acer Liquid E3.