Well, that was quick - the official announcement of the Froyo-running Acer Liquid Metal follows hot on the heels of the first review. It's usually the other way around, but still - the Liquid E successor is here.
The Acer Liquid Metal is positioned between the Liquid E and the Stream. The capacitive touchscreen measures 3.6" with WVGA resolution and 16M colors. The CPU is barely faster than the one in the Liquid E - 800MHz vs. 768MHz.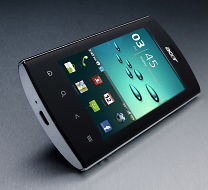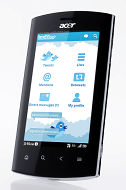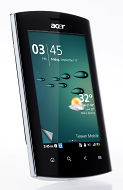 Acer Liquid Metal official photos
And yet the Acer Liquid Metal is faster - thanks to Android 2.2 Froyo. It's been customized with Breeze - Acer's latest custom UI. We weren't big fans of their last attempt but maybe this one is better - and you can always switch back to the default UI.
The RAM inside the Liquid Metal is 512MB - same as the high-end Acer Stream (and not 384MB as it said in the review). Anyway, the 5MP camera on the Liquid Metal features auto-focus, LED-flash along with face and smile detection.
It can record video in 720p resolution - an equal to the Stream's camera. Other specs include fast 3G with HSPA, Wi-Fi b/g/n with UPnP and Bluetooth 2.1. Dolby Mobile and XviD support boost the multimedia features.
Android 2.2 Froyo enables Flash 10.1 on the Acer Liquid Metal and Wi-Fi tethering too. There's Facebook and Twitter integration and Documents To Go preinstalled.
Anyway, you can read one of the first reviews of the Acer Liquid Metal here. If you can read Russian or at least Google Translated Russian. Keep in mind it may not be 100% accurate - like the RAM thing.
b
does this acee liquid has a phone lock? and I still realy waqnt to know if this is the acer S120.
b
is this the acer liquide s120?
c
does it not have a digital compass ?
ADVERTISEMENTS