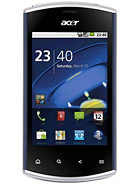 b
kurotsuki, 11 Jan 2011I have Nokia 5230 which use 360x640 resolution. It's damn wider than that. If I'm not mistaken... moreit is very nice handset n it's features is amazing
n it's look very nice
G
resolution of 360 x 640 sounds controversial.... It could still give stiff competition to optimus one and galaxy ace if priced right.
Does anybody have any idea about its release date???
D
KHB, 14 Feb 2011Their is no way this can compare to any sony eric androud phone. Dude, how can you possibly know that? Posting stuff like this just makes you look foolish.
D
Yandao, 08 Jan 2011360X640?Is this resolution compatible with android apps?360 x 640 pixels or 320x480? Gsmarena confirms ?
?
360X640? surely its a typo, that resolution are wide screen nokia phone, and this phone screen aren't that wide, more like 360X480
k
I have Nokia 5230 which use 360x640 resolution. It's damn wider than that. If I'm not mistaken, that should be HVGA, not nHD like 5230 or 5800 had.
?
GRV, 07 Jan 2011better than SEXperia minixperia mini is old now , u can compare i to X10 MINI SUCCESSOR than u can see this suck .

well , will be cheap maybe 120 euro , nice
2
a direct competitor to LG CHIC and OPTIMUS ONE, but its more better looking!

i doubt its a 360x640.. take a look at Nokia 5800 and 52xx, they have the same rerolution and screen size as this one but the shape of the screen is more on the rectangular size. liquid mini's more square-shape screen is i think has a 320x480 display.
h
shit man im disappointed. No flash. No secondary camera. No digital compass. Does this qualcom 600Mhz processor can play adobe flash 10.1? Must say awesome resolution 360x640. Nice looks.
Total of 295 user reviews and opinions for Acer Liquid mini E310.