Four browsers, because... why not?
The Liquid X2 comes with four browsers pre-installed, because letting you download your own is too mainstream. You get a stock browser, Puffin, UC Browser, and Chrome.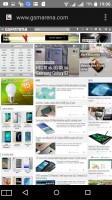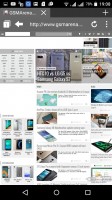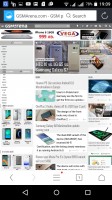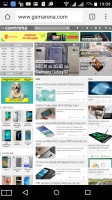 Browsers: Stock • Puffin • UC • Chrome
Other pre-installed apps
The Liquid X2 comes with a pre-installed copy of Polaris Office 5, which handles document editing with ease. It supports Word, Excel and PowerPoint docs (both the 2003 and 2007 versions), it also opens PDF files and it doubles as a file explorer.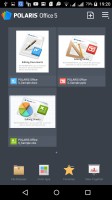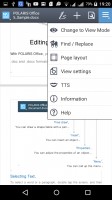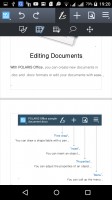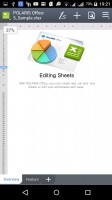 Polaris Office 5.0 can handle document editing on the move
The Acer Aid Kit includes System doctor, Power management and Backup and restore. The first one aims to clean up RAM and storage, while Power management keeps track of the apps and hardware that take a toll on your battery. It also gives access to a battery saver feature, which reduces brightness and performance and limits the use of non-essential radios.
There's a simple file manager on board, but it does at least support batch actions.
Acer has thrown in a bundle of proprietary apps which can be accessed from the Acer Portal app, or from their separate icons. They require an Acer ID, and allow you to use your PC as a cloud storage solution for your smartphone. Naturally, additional software needs to be installed on the PC as well.
abFiles is yet another file manager (third so far), which adds your PC cloud to the local storage, but other than that offers largely the same functionality. abMusic is the music player of the bunch, with support for playlists and sorting by albums, artists or genres. You can guess then what abPhoto is for. Meanwhile, AcerEXTEND allows you to control your smartphone from your PC via USB or Wi-Fi connection.
The Liquid X2 sports a Quick Mode which is in turn divided into Standard, Easy, and Basic, with progressively simpler interface. Standard and Easy retain the two-tier interface, with a simple homescreen and an app drawer, while Basic only gets a homescreen and is more child-oriented. All three come with a redesigned notification shade and larger icons across the interface.