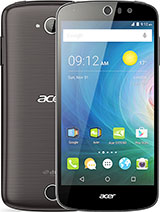 R
Gyanboy, 17 Jun 2016wen dis phn is coming....... any expected release date??????I've been using this model and the GPS is actually great. Make sure you have a strong data connection if ever you're using a Data plan or Wi-Fi. Also, set the connection to 3G only.
N
I am really disappointed. I failed my reason why I bought this phone. The gps is not accurate and also its camera poor quality. Even I update the google maps. And now it is a very expensive toy only.
u
all very well, but but does it have the same WiFi bug as the Z530 and many other budget phones, i.e. it wont re-connect to Saved WiFi networks when the screen is locked, try it, you will be shocked.

D
With specs like that battery should be at least 3000. Otherwise phone is useless unless you wanna charge it twice a day.
Total of 8 user reviews and opinions for Acer Liquid Z530S.