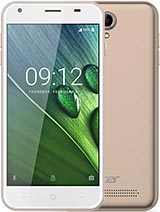 ?
Edge of the screen fell off by itself, part by part. It left some unprotected areas of glass/display on my screen so when it hit the sofa screen cracked. Yea, its truth phone fell but I'm sure if these plastic defenders of screen didn't fall of by themself my screen wouldn't have cracked. Must say they fell of while I had a protection case... Dissapointed by quality of external parts. Other then that, decent phone, I like it and I generally enjoy using it.
N
Excellent phone, comparable with Samsung J3 performances, perfect screen vision and quick response in browsing internet - one weaker point is the contacts management, but not a key point - value/price ratio to recommend !
Total of 3 user reviews and opinions for Acer Liquid Z6.