Acer at MWC 2015
Acer 2015: Liquid Jade Z, Liquid Z520 and Z220, Liquid M220, Liquid Leap Plus hands-on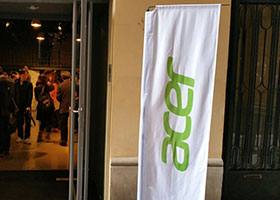 Acer Liquid M220 hands-on
Acer Liquid M220 is company's second Windows Phone handset. It's an entry-level device with a retail price of €79 and a promised upgrade to Windows 10. Acer has only made only one Windows smartphone and it was back in the dawn of Windows Phone - the Acer Allegro.
Acer Liquid M220 is the Windows counterpart of the Lollipop-based Liquid Z220. It packs a 4.0" display of WVGA resolution and runs on a dual-core 1.2GHz processor (probably Cortex-A7) coupled with half a gig RAM.
Windows Phone 8.1 OS is in charge of operations, but Acer promises an update to Windows 10 for Phones later this year. The 512MB RAM won't be a problem as Microsoft has already announced Windows 10 will make it to phones with just 512MB RAM.
The phone might be an entry-level device, but the M220 is surely a looker. Instead of a generic seamless design, Acer opted for a more flexible shell with Thai Silk-like textured rear cover and grippy ripped frame.
We really liked what Acer did with the design and it definitely boosts the looks and the overall impression of the Liquid M220.
The 4" display offer an ok pixel density of 233ppi, but has poor viewing angles, modest contrast and what seemed like ghosting. The screen bezels are huge, too.
You've probably noticed the flip case on the Liquid M220 on our photos - it's a very nice accessory but it will be sold separately.
We've played with the Acer Liquid M220 for a while and the grip is indeed excellent and we feel the panels are tough enough to survive a few accidental drops. The Windows Phone OS is smooth and hopefully it will continue to be after the Windows 10 update kicks off.
Acer Liquid M220 will become available in the EMEA markets starting this April at €79. It will come in two flavors - Mystic Black and Pure White.