Acer at MWC 2015
Acer 2015: Liquid Jade Z, Liquid Z520 and Z220, Liquid M220, Liquid Leap Plus hands-on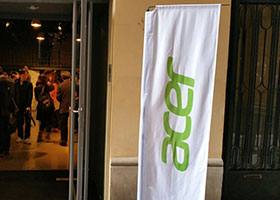 Acer Liquid Leap+ smartband hands-on
Acer did not stop at smartphones though, and brought to MWC 2015 an updated version of their smartband. The Liquid Leap+ (mind the +) offers advancements over the previous generation in both design and features.
While the original Liquid Leap came in a range of bright colors, you were stuck with the one you chose at the store. The new one offers exchangeable straps, so the electronics brain of the smartband can be fitted into different wristbands to address style considerations.
The accessory features an understated design, which benefits from the buttonless concept of the predecessor and is entirely touch-operated.
You wake the band with a double-tap and it does tend to fall asleep pretty quickly, but given its presumed usage scenarios, it should be good enough. The interface is limited by screen size, but nevertheless provides adequate capabilities.
The 1-inch OLED display offers visual feedback, while allowing the band to last five to seven days on a single charge, according to the company's claims.
The offered functionality is what you'd expect from your typical fitness tracker with a few added twists. You do get a step counter, distance measurement and calories burned, but also sleep tracking and remote control of the music player in your phone.