Acer Predator 6 hands-on
You may or may not have heard, but Acer has ventured into the world of gaming hardware and with a flying start. A few months ago the OEM launched its Predator division, which is charged with the tough goal to deliver ultimate performance hardware and builds to the very nitpicky crowd of gamers. It is definitely a good move as far as market expansion goes, as the branch is growing at an exponential rate and does by definition entail lots of expendable income and freedom to go wild with hardware and visuals.
This is exactly the motivation behind Acer's new Predator 8 gaming tablet and Predator 6 gaming smartphone. Both represent a new branch in the Predator family, which, just like DELL's Alienware and Republic of Gamers by Asus, started out in the desktop and laptop PC realm. Acer must definitely be doing something right as to facilitate this bold new expansion to the Predator lineup.
The Predator 6 might be a hardcore Android gaming device, but it is still a smartphone nonetheless, so we were naturally drawn to take a closer look.
First, the elephant in the room – visuals. If there is one thing the gaming industry is instantly associated with, it would have to be captivating strong and aggressive visuals. What better way to draw the attention of gamers than a flashy shell, a lot of red paint and a brushed surface. Acer knows this all too well and consequently the Predator 6 definitely stands out.
It is actually quite a refreshing breath of fresh air to see some variation on the standard slab design that has been the norm for so long now. The Predator has character and a lot of it. The body is arched out at the back with strong angles, some quite unnecessary, but all so cool steep edges and grooves and a huge logo etched in on the back. It is definitely not something you would want to pull out during a business meeting, but in the right circles it is the definition of awe-inspiring.
The design is nicely wrapped up by four distinct orange grills at the top and bottom, which all house speakers for the best possible audio experience. Otherwise the front is quite clean and only the earpiece stands out a little with its camera-like design. As far as materials go, the shell is mostly made out of metal and feels really premium. Handling is quite nice as you would expect, given all the extra edges to grip on to and holding it with two hands in landscape feels even better.
The sides of the phone are quite clean with nothing really getting in the way. A USB on the bottom, 3.5mm jack on the top and volume on rock controls on the right hand side – that's about it. And now we get to the important part. Any gamer likes a flashy attire, but it is the internals that count and the Predator P6 definitely has the guts to impress. First up is the spacious 6.0-inch HD display. It puts the phone well into phablet territory, but also looks quite impressive in terms of contrast and sharpness.
Underneath the hood is a beastly MediaTek chipset – the MT6797, more popularly known as the Helio X20. It is a monster and has a total of ten CPU cores inside, but before you get too excited, it is still a mobile chip and running all of them is not really an option of a number of practical reasons. The design is actually what is referred to as a tri-cluster. The Predator 6 has two sets of four Cortex A53 cores, running at 1.4Ghz and 2.0GHz respectively, as well as an additional two A72 cores, running at a whopping 2.5GHz. Those are the chips the unit will be utilizing to handle great loads ant the other clusters are there to offer a less power-hungry alternative for regular tasks.
This is where our beef with the Predator 6 lies. While Acer has indeed done everything it can to equip it with the most-powerful hardware possible, it is still a standard ARM solution that will most-likely be fitted in a lot of other consumer devices in the future and not necessarily ones that will be marketed as gaming stations. This is in contrast to a more-custom approach, like what Nvidia does with the Tegra chip. That could actually give you more productive hardware, as opposed to just a flashy exterior and big marketing talk. But, we digress.
The rest of the Predator's specs sheet is still quite impressive, featuring a Mali-T880 MP4 GPU, 4GB of RAM and a 21MP camera and to Acer's credit, it does seem to have put some extra effort into making a custom device, tailored for gamers. For once, the Predator 6 is equipped with a special haptic feedback system, so it can behave just like a modern console controller and immerse the player in the game.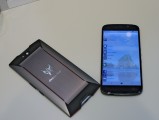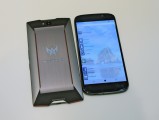 Acer Jade Primo and Predator 6
As for the software, it is already clear that the Predator 6 will run on Android, just like the Predator 8, however, Acer could opt to build a custom gaming-friendly experience on top of in, which could definitely boost sales. Last, but not least, when dealing with gamers it all comes down to content and Acer needs the right approach if it is going to give the products like the Nvidia Shield a run for their money. But frankly without a custom hardware platform to impress with, we doubt the Predator 6 and its tablet counterpart will ever become wildly popular.