Earlier this week, we told you about a new update to Samsung's Android web browser - Internet - that added API support for developers to build ad blocking extensions for the browser. We also told you about the Adblock Fast app, which was Samsung's launch partner for the ad-blocking feature. That app has been suddenly pulled by Google from its Play Store.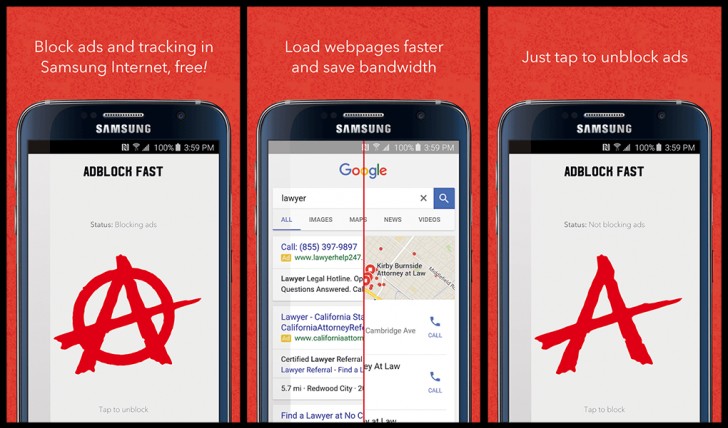 No prior warning was issued by the Mountain View, California-based company - app developers just received what seemed to be a human-written email, informing them that the app violates section 4.4 of the Developer Distribution Agreement.
The said section of the agreement says:
You agree that you will not engage in any activity with the Store, including the development or distribution of Products, that interferes with, disrupts, damages, or accesses in an unauthorized manner the devices, servers, networks, or other properties or services of any third party including, but not limited to, Android users, Google or any mobile network operator.
While the app doesn't seem to do any of this in the first look, technically speaking, it certainly "disrupts" Web pages by removing ads. But so do other similar Samsung Internet extensions that haven't been pulled yet. It's worth mentioning that Adblock Fast became popular very quickly, hitting the top spot for free, new productivity apps on Google Play within a day of its launch.
When reached out for comment, a Google spokesperson just said, "While we donít comment on specific apps, we can confirm that our policies are designed to provide a great experience for users and developers."
?
Is there an APK for that one. Please provide link. Thanks in advance.
?
Seemed obvious. Ads are Google's main money maker. It would be silly to give Android for free to OEMs if said OEMs would then kill Google's main way to get paid. That said, there are ways to block ads if you're "in the know". Both rooted and unr...