This month Windows Phone reached an important milestone - the latest version (WP8.1) now powers over half of all devices. Added together with devices still on WP8.0 (which could be updated to 8.1), that leaves about one seventh as legacy devices (WP7.x, which cannot be updated).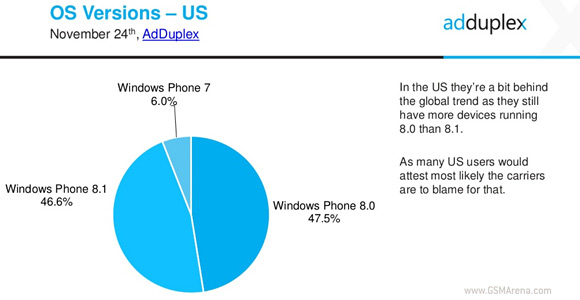 There's more good news too, new devices are climbing up in market share. There's a bit of bad news to go along with that too, it's the Lumia 63x that is seeing the biggest gains.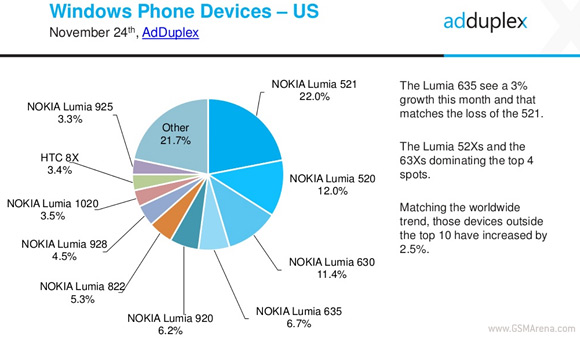 The Other group keeps growing - this month by 2% - which suggests there is some diversification going on in Windows Phone land, but the market is still heavily skewed towards the entry-level devices.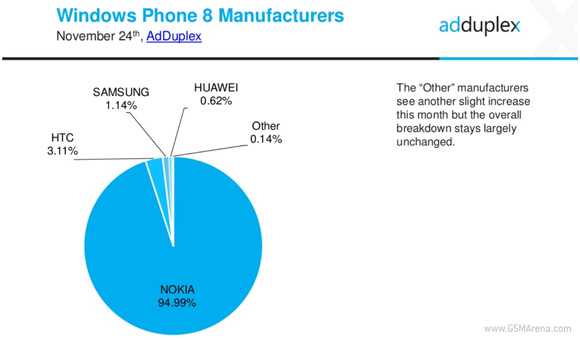 "Other" grew when it comes to manufacturers too, but Nokia - that is Microsoft - still has 95% of the market. That will change soon, but only because Microsoft has retired the "Nokia" brand in favor of its own.
?
WP7's Windows CE kernel was not compatible with Windows desktop OS like Windows 8 and Windows Server 2012. All the Windows Phone 7 devices were single core anyways. Windows Phone 8 is optimized for multicore processors. Since all Windows Phone 8 are ...
T
This is not true that WP8.* phones was and will be so many updates, but WP7.* phones is just "sent" to dead. Microsoft sucks, their was promising feature updates for WP7.8 before 08.14, but latest update was WP7.8 as it is at 02.13.
b
See,ive had lumia 800 running wp7.8 and all i was hoping for was to see a huge improvement with 635 over 800. I would consider wp best looking system (live tiles are just amazig idea) but its a bit useless. I couldnt figure out how to chcek date and ...