As you may know, there are ads on Facebook. Quite a lot actually. So with that in mind, the following really shouldn't be all that surprising. The social network is working on bringing ads into its own-brand chat app, Facebook Messenger.
These will show up inside the home screen of Messenger, where you currently see your most recent chats. The look of the ads will be tightly integrated into the design of the app so that they don't stand out too much, but the amount of vertical space they take up (which is roughly equivalent to three chats) will definitely not go unnoticed, as you can see from the screenshots below.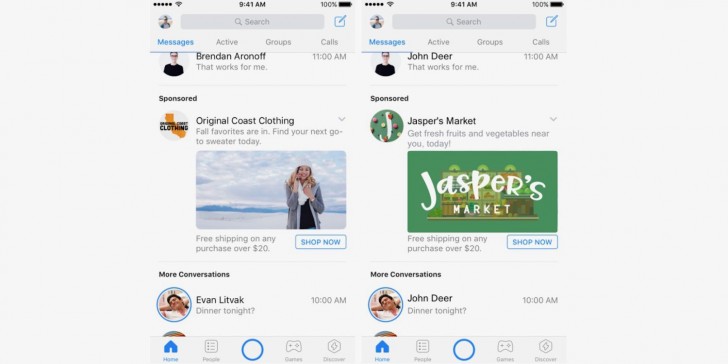 Facebook says Messenger users worldwide could be seeing ads within the next few weeks. However, the full rollout may take until the end of the year to conclude, so if you're lucky you'll have that long to get used to the idea. Testing for this feature actually begun in January, but only in Australia and Thailand.
Facebook expects most ads in Messenger to lead to opening conversational threads inside the app, either with a human or a bot. That said, companies are free to direct you to external destinations such as their websites once you tap on an ad.
B
Facebook is still a thing
D
Oh really? i think maybe facebook views iphones as advanced phones that can handle the heavy usage facebook and messenger use, the Lite versions were made for the older android phones and places with limited network connectivity and also using less d...