Today Nokia unveiled a couple of new entry-level additions to its portfolio of mobile phones. The Nokia X2-05 and Nokia C2-05 are S40-running handsets with QVGA screens that should fit easily in any budget.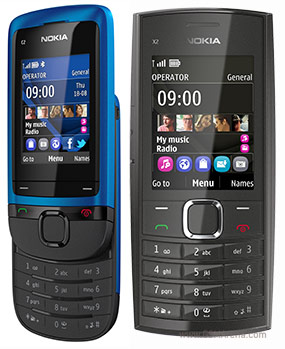 The Nokia C2-05 slider offers a 2" 65K-color LCD, VGA camera and a microSD card slot. FM radio, Bluetooth and microUSB connectivity are also on board the lightweight (98.5g) featurephone. On the network side of things dual-band GSM/GPRS/EDGE is as good at it gets, but at least there are two versions of it for the different parts of the globe.
The Nokia C2-05 will become available in Q4 and will cost €50 before taxes.
The Nokia X2-05 is a music-centered bar, packing a really powerful speaker. According to Nokia the perceived loudness of that one is 106 phons. An FM radio with a support for recording and a VGA camera are the other multimedia features of the phone.
At 87.8g, the Nokia X2-05 87.8g is even lighter than the C2-05, despite the larger screen. Much like its sibling though, the X2-05 packs a MicroSD card slot, dual-band GSM/GPRS/EDGE, Bluetooth and microUSB port.
Available in Black, Silver, White and Bright Red, the Nokia X2-05 will also ship in Q4 and is expected to cost around €46 before taxes.
D
I want to download whatsapp with nokia x2-05 bt how can i download?
e
pls x2-05 deos not support what app
k
want 2 download whatsapp on my nokia x2-05 bt hw
ADVERTISEMENTS