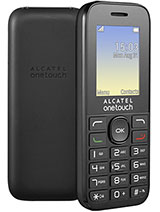 A
Hi
My alcatel does not want to receive calls, nor make calls.
I cant send or receive sms's either.
When i phone to my number, its just in engaged.
what could be the cause, and how can i fix it?
L
I had a government phone - I think Nokia? - and had no problems with it until it got stolen. This Alcatel they replaced it with is the unreliable phone I ever seen!!
k
help, tel is empty, just emergy possible. but why i can not phone the number to put money on it
D
SKK, 29 Oct 2015what is operating systemI replied to your comment I hope what I said is helpful. :)
D
I am pretty sure this phone runs on a version of Nokia's old Symbian OS. Quite possibly Symbian S30/40. I just bought an Akai JEP-1215 Dual Sim Phone yesterday and it is almost identical to this phone apart from the battery being 600mAh.
Total of 49 user reviews and opinions for alcatel 10.16G.