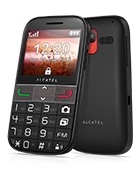 C
I don't understand how it was designed for old people since:

1.There is no dedicated key for General/Silent switch (Profile). You have to enter into Menu, to navigate, and after 4-5 steps to reach the option. There is a must for all phones, not only for old people ones.

2.There is no dedicated key for Agenda. The same as previous, you have to navigate through Menu in order to reach the Agenda (3 steps).

Strange, is that you have dedicated key for Weather instead of having that previous 2 dedicated buttons.

Another minus is that you cannot de-activate the voice (you can hear the number you are writing), on General profile. For some people is very useful, but for other might be annoying.
S
Bought this for my 84 year old mother and has already caused great distress as cannot get signal, either can't get through at all or calls just drop continually.

Today cannot get through to her at all.

Will be taking it back for refund.

Where my mother lives is an old building and signal not great but her Motorola is much much better so will have to go back to using this again.
Total of 104 user reviews and opinions for alcatel 2001.