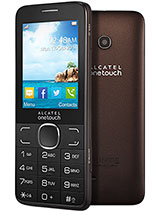 ?
What is it like to sms on this phone? does it have t9? predictive text? or are there a bit too many clicks to do basic tasks...
A
I have an S7 and an iPhone 7. The Alcatel 2007 is much better than both of these flagships and costs just a fraction of the price. Alcatel will soon be challenging both Samsung and Apple for best smartphone company.
G
With a minimum of 500 SMSes, Alcatel phones can store more SMS messages than Nokia feature phones, which are extremely limited. That is most important thing when considering buying feature cellphone.
M
AnonD-170565, 03 Oct 2015I think better thank Nokia modelsI don't think.
You can compare between the Alcatel 2007 and the latest Nokia 222.
Nokia has a browser, more apss (bing search, weather, GroupMe by Skype ...etc)
Total of 31 user reviews and opinions for alcatel 2007.