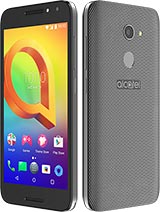 F
Had this phone since August last year and what a pile of junk!Problems loading contacts,music and e mail!Also keeps dropping out of wi to !Took it back several times and told nothing wrong with it!Don't get this phone absolute waste of space!
r
16gb internal storage but my internal memory is full up to 8gb no video, music, or pictures a there??????????
L
Imprecise tuch, poor camera in low light, good display , speed, old android 6.0 upgrade ?
A
From the first day itself it is heating too much.... so I returned back....
C
Alex, 18 Aug 2017Can it be upgrade to 7.0?Not at the moment and my guess is probably never. It is a brand new phone and it should have come with Nougat but instead it came with older Marshmallow. That pretty much tells you that no Nougat for this phone.
J
I just got this phone:

Cons
No light sensor!
The included Headphones are very disappointing!
Covers are hard to get

Plus points:
Accurate finger print sensor
Well built


l1
ahaha you bought an Alcatel A30 excusive of amazon... the A3 is different and hasn't been released yet.
Total of 10 user reviews and opinions for alcatel A3.