To kick off CES this year, Alcatel has unveiled a bunch of new One Touch smartphones.
The new lineup is headlined by the impressively-spec'd Scribe X and Scribe HD-LTE smartphones.
The Scribe X is set to feature a 5" 1080p display, a quad-core 1.4GHz processor, and a 12 MP shooter. The Scribe HD-LTE will likely feature the same specifications, with the addition of an LTE antenna.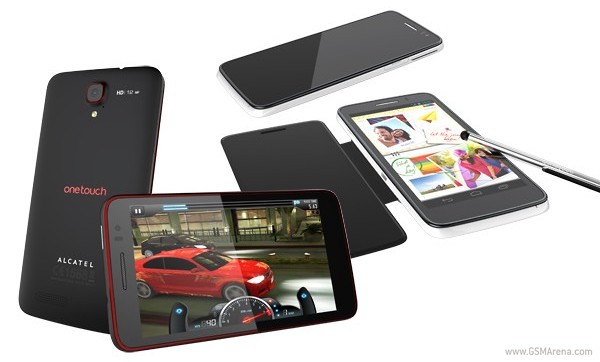 This is not to be confused with the Scribe HD, which will also feature a 5" screen, but of 720p resolution instead of FullHD.
The Scribe HD will run on a quad-core 1.2GHz SoC from MediaTek, and come with 1 GB of RAM and 4GB of expandable storage, all powered by a 2500 mAh battery. There will be 2MP front-facing and 8MP rear-facing cameras, and the Scribe HD will run Android 4.1 Jelly Bean out of box.
Alcatel isn't holding anything back this year, as it is vying for the thinnest smartphone crown with the One Touch Idol Ultra. Measuring just 6.45mm, it takes the top spot by a narrow margin – but let's not forget that the show is just starting.
It boasts a 4.7" HD (720p, not FullHD, mind you) screen, 1.2 GHz dual-core CPU, 1 GB of RAM and an 8 MP camera with 1.3 MP front-facer, both of which record at 720p. There's also a similarly-spec'd One Touch Idol, which is thicker, has a qHD screen, and half the ram of the Idol Ultra.
Alcatel is also looking to expand its more affordable smartphone lineup with a trio of devices in the One Touch Pop family. The highest-ranked member is the X'Pop, which features a 4.5" qHD display, dual-core 1GHz processor, and 512 MB of RAM. There's also a 5 MP camera alongside a microSD card slot, and it will run Android 4.1 Jelly Bean.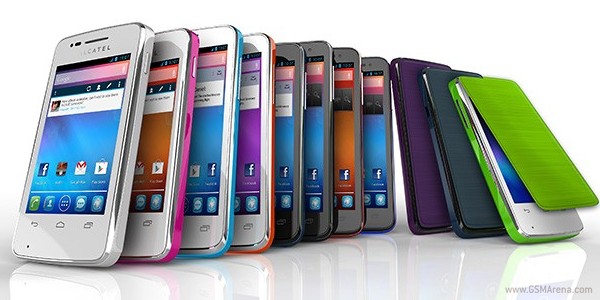 The S'Pop comes next, with a 3.5" HVGA display, a single-core 1GHz CPU and 512 MB of RAM. There will also be a 3.2 primary shooter and VGA front-facing snapper.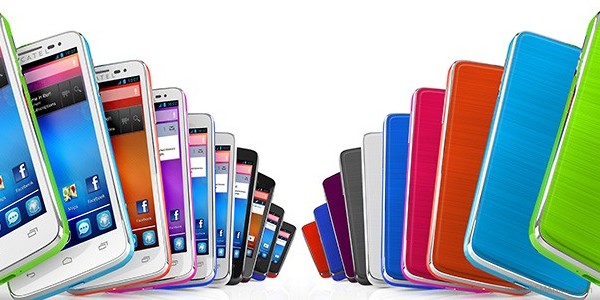 Finally, the budget-grade T'Pop will also feature a 3.5" HVGA screen, 1GHz CPU, and 3.2 MP camera, but with only 256 MB of RAM and Android 2.3 Gingerbread onboard.
Alcatel has not specified pricing for the One Touch Pop lineup, but you can expect the X'Pop to launch this month in Europe, Asia, and Africa, while the S'Pop and T'Pop should go live in Asian markets this month and next month, respectively.
The Scribe HD will hit US markets in Q3 of this year for $400, with an optional flip cover. There's no word yet on Scribe X or Scribe HD-LTE pricing or availability, although we expect they'll hit retail sometime after the Scribe HD.
Finally, the One Touch Idol Ultra will be out this month in China for 2799 RMB (~$449). There's no word yet on US availability, although it looks to be in jeopardy as Alcatel is supposedly having trouble getting it through the FCC due to its thin profile.
t
it is happy to see Alcatel being active again but it is sort sad to see that it is depending on android to self-saving...sort like moto which actually lost its soul to google...those phones are essentially good but i would like to view them as the us...
a
I thought that alcatel only produces low-end devices - i'm surprised that it even has a 5"1080p model - and that it came before samsung, lg and motorola!
?
I am a big fan of Samsung but I absolutely love these, not the typical remote control looking LGs Sonys n HTCs, good going Alcatel!
ADVERTISEMENTS