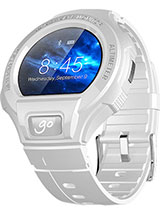 G
This is the most affordable smartwatch from well known brand. The build quality is good but supporting app on play store isn't good for customization. The cons are Messaging (SMS) notification never arrive (can be fixed), no countdown timer, limited notification support for 3rd party apps, and doesn't have notification sound whatsoever!. If you forgot where you put your Go Watch and try to locate it from supporting app, there will be no simple bip bip sound. Despite the minuses, Go Watch is rugged toy. No problem arise to look at the screen on direct sunlight and this one is a perfect collection for anyone who love oversized digital watch :)
G
is it just me or does it feels like a g shock ?
K
Actually, you'd be surprised, it is a very simple but effective smart watch. No frills but functional... also manages 3 days of operation on a single charge. I like it.
S
More "No" than "Yes" What is use for it.............
Total of 45 user reviews and opinions for alcatel GO Watch.