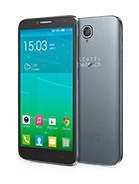 Z
Could someone please tell where I can buy this phone please? , that's if its been released
?
This smartphone will be hit in 2014, thinner, faster and beautiful desing and colour !!!!
k
Nima, 27 Feb 2014Looks great! waiting for IDOL 2 come to Iran!It is a good phone , but considering that Alcatel don't have service in Iran you may care before buy.
Alcatel has very good looking and light phone, i really like it too,
D
BABAK, 23 Feb 2014if its upgradable to 4.4, it would be wise decision to release it with 4.4 instead of 4.3, i c... more4.3 or 4.4, it does not matter, the user experience is almost the same and as soon as you unbox the phone, 4.4 update will be ready to download.
Total of 288 user reviews and opinions for alcatel Idol 2.