Camera
The Alcatel Idol 4s has a 16MP main snapper at its disposal. It employs Sony's IMX298 Exmor RS lens, which just happens to be popular among many of the close specs and price competitors of the Idol 4s. This includes the Vivo XPlay 5, OnePlus 3, ZTE Nubia Z11, Huawei Mate 8, Xiaomi Mi5 and the Asus Zenfone 3.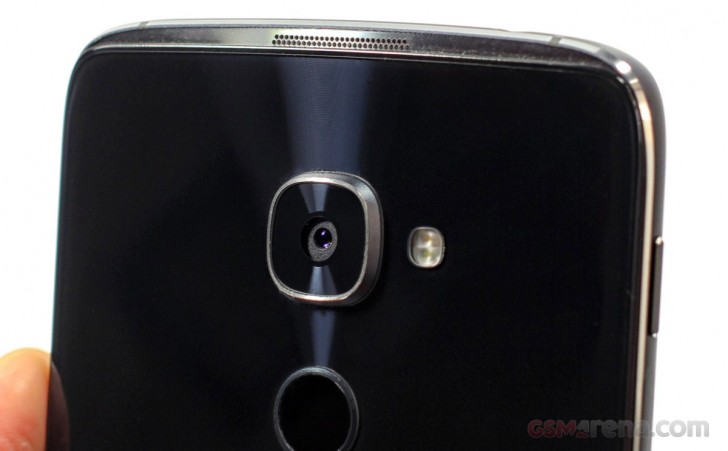 The f/2.0 camera is also coupled with a dual tone, dual-LED flash. It's a tiny extra feature, but one that can definitely make a difference under less-than-favorable lighting conditions. Having phase detection is also great, since it can potentially speed up the focusing system.
Alcatel has really put a lot of effort into the camera app and the end result is a really feature-rich experience. Of course, you can choose to ignore all that and simply use Auto mode. It has a pretty standard and well laid-out UI. The settings portion of the camera app is also pretty straight-forward, so even novice users should have no problem navigating around.
Manual mode is present as well and it gives you access to ISO, while balance, shutter speed and even allows for manual focus. You can fine-tune that perfect shot to your heart's content.
There are also a few other modes to have fun with. For stills, you naturally get Panorama, which works well with no sights of stitching or other artifacts. There is also Fyuse Parallax, which can be used to capture an object form a few different angles and then create a cool rotate-able final result.
For video, there is a special Micro-video mode that allows you to quickly stick together small clips and do some rudimentary editing on the go. There is a SLO-MO setting as well.
But, gimmicks aside, the Alcatel Idol 4s captures pretty nice stills. Resolved detail is plenty and sharpness is decent as well. Colors are a little de-saturate, but, overall we can't really ask more from a $400 handset.
The 8MP selfie shooter does alright as well, but as is typically the case, dim the light a little and noise tends to become a major concern.
The Idol 4s has more than enough power to handle 4K video capture and the results look quite good. One again, there is plenty of detail and sharpness is good with focus hunting generally kept at a minimum. There is no OIS support, so you can expect shaky videos on the go. However, EIS is present and generally works well. There is also a toggle for it in the settings, which is a nice touch.
Battery life
The Alcatel Idol 4s is equipped with a non-removable 3000 mAh battery. Definitely a respectable amount of juice for a 5.5-inch device and considering the AMOLED panel and Snapdragon 652 combo, we sreuly expected a decent Endurance rating from the handset.
However, the reality was far from it as it only got a rating of 61 hours, which is average at best. The Video and Web Browsing times were particularly poor. Call time was a 18:34 hours, which while far from excellent, was still solid.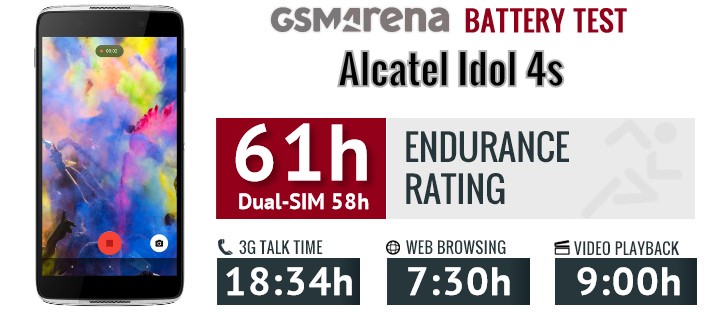 Still, you have got to keep in mind that while the individual test times were not so hot, the standby power draw was actually quite reasonable and that's only a step below calling it excellent.