Alcatel Idol 5S
The Alcatel Idol 5S has a premium design and is built with high end materials. It has a unibody made from a single piece of aluminium. There are antenna lines etched out in the casing but they are flush with the metal surface and unobtrusive.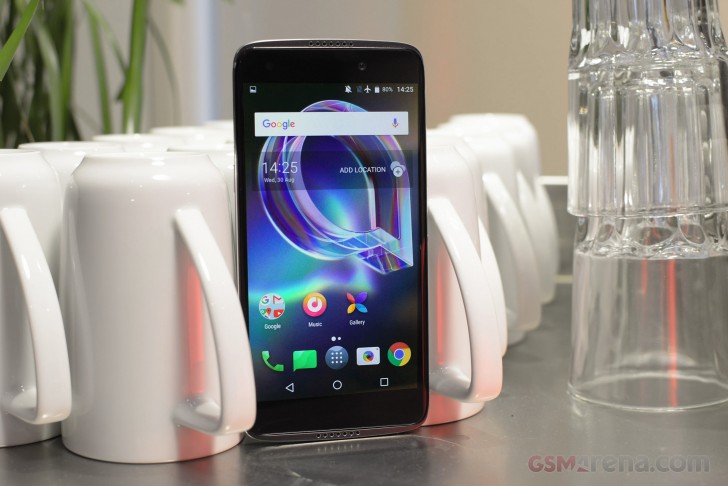 What was once the Boom key on the Alcatel Idol 4 is now the Now button. Upon a press it opens a carousel of app shortcuts and functions for quick access - yay! You can have up to 8 of your most used apps or just 1, which will launch automatically upon the press of the Now button.
The Idol 5S has stereo speakers on the front, flanking a rather smudge-prone 5.2" display. It's a fine IPS panel but we were a bit disappointed that the Idol 5S lacks the AMOLED screen of its predecessor.
The 12MP camera on the Idol 5S has a few clever tricks. You can capture cinemagraphs in which one object is moving on a still plane (imagine a person on an escalator - only the escalator is moving in the picture).
Alcatel Idol 5
The Alcatel Idol 5 retains the aluminium build but somehow feels less refined than the Idol 5S. It also lacks the dual speakers. It lacks the physical Now button but you can access the feature through the software.
Interestingly the Idol 5's 13MP main and 5MP front camera avoid their native resolution and capture upscaled 16MP and 8MP stills. Okay, maybe we mean weirdly and not interestingly.
The Idol 5 has an all new App Cloner feature that lets you have multiple accounts on one social app (like WhatsApp). Strangely the Idol 5S lacks this feature.
Alcatel A7 XL
The Alcatel A7 XL is a well made big phone. It packs a 6-inch display and 4,000mAh into an aluminum body. Its antenna lines aren't as refined as those on the Idol 5S.
The A7 XL has a dual camera setup that features a 12MP main camera and a 2MP secondary one that's used only for faux background blur effects. In a flash of brilliance, the A7 XL lets you adjust the amount of background defocus after you've taken the shot!
Alcatel A7
The Alcatel A7 is a smaller phone with a single camera. It combines the same 4,000mAh battery with a 5.5" screen. Its single camera is a 16MP unit.
The back surface isn't aluminum like the A7 XL but rather plastic. We're not fond of the gold accents either but that's a personal preference.
No stereo speakers here either - that remains an Idol 5S exclusive.
So that's all for our first impressions of the Alcatel's latest devices.