MWC 2014
MWC 2014: Alcatel One Touch Idol 2, Mini 2, Mini 2 S, OneTouch Pop Fit hands-on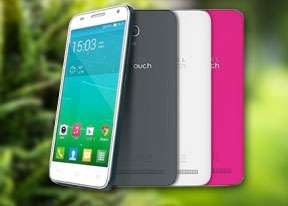 Alcatel One Touch Idol 2 Mini S hands-on
The Idol 2 Mini S is the 4G LTE version of the Idol 2 Mini and features an identical 4.5" qHD display, 1.2GHz quad-core CPU, 1GB of RAM and an 8MP rear camera with LED flash and NFC.
The difference isn't just the LTE connectivity, though. The Idol 2 Mini S packs a metal back with plastic top and bottom. It's a very good looking combo as the plastic is by no means the low-quality stuff cheap phones are made of. It's semi-matte and, just like on the Idol 2, could easily be mistaken for brushed metal.
The similarities to the Idol 2 continue on the build quality as both phones are equally well put together. There's no squeaking and bending and the phone is just 8.5 thick. Astonishingly, despite its semi-metal body, it weighs just 116 grams.





Alcatel One Touch Idol 2 Mini S live photos
The Idol 2 Mini S features a microSD card slot and runs Android 4.3 Jelly Bean, with an update to KitKat in the works.
According to Alcatel, the 2000mAh Li-Ion battery of the Idol 2 Mini S is capable of 400h of 3G stand-by time and up to 13 hours of 3G talk time.
Alcatel prices the Idol 2 Mini S at €209. We'll be sure to give the phone a very close look some time in March when it launches.