Alcatel at MWC 2015
MWC 2015: Alcatel OneTouch Idol 3 hands-on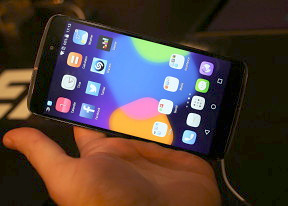 Alcatel OneTouch Idol 3 (5.5) hands-on
We'll kick off with the bigger brother, the 5.5-inch FullHD model. The Alcatel OneTouch Idol 3 (5.5) packs powerful midrange hardware, headlined by the Snapdragon 615 chipset with octa-core CPU and 2GB of RAM. You get a 13MP rear camera, paired with an 8MP front shooter.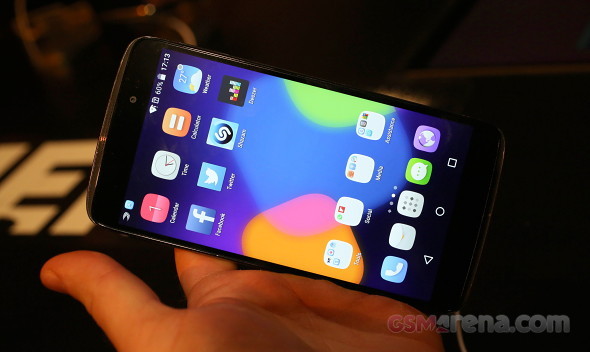 The FullHD 5.5-incher has good resolution, but doesn't impress with contrast, at first glance. Viewing angles are okay, and the display remains readable, even if there's a marked color shift when viewed from the side.
Alcatel claims great sunlight legibility, but we obviously didn't have the tools to test that in the field. That said, with all the spotlights around, the screen performed well and wasn't overly reflective.





Alcatel OneTouch Idol 3 (5.5) in the hand
Alcatel OneTouch Idol 3 (4.7) hands-on
The smaller 4.7-inch version has a lower resolution, but at 720p it's sharp enough stretched at this diagonal. It comes with an inferior Snapdragon 410 chipset and has only 1GB of RAM. The front camera is also a step back, but 5MP is still a good selfie unit.





Alcatel OneTouch Idol 3 (4.7) in the hand
What we said about the display of the bigger brother is equally true of the Alcatel OneTouch Idol 3 (4.7). The smaller screen doesn't disappoint either, and possesses adequate contrast and legibility at an angle.
Both phones sport a solid plastic build and materials are pleasant to the touch. They offer very good handling, thanks to the grippy back surface. The slim profile also adds to the positive impression in the hand.





Alcatel OneTouch Idol 3 (4.7) details
The choice of sizes on Alcatel's part reminds us of one other manufacturer, but there's a good reason for those form-factors. Many buyers refuse to sacrifice pocketability and draw the line at 5 inches or lower, while power users enjoy the added screen estate of a larger diagonal. Hence the 5.5" model to ensure that the vast majority of smartphone users have something in Alcatel's lineup to draw their attention.





4.7" model sized up against 5.5" big brother
However, the greatest feat of both OneTouch Idol 3 versions is their reversibility, that is, you can pick up the phone upside down and still have a successful conversation. There's no magic here, Alcatel has just fitted the smartphones with a speaker and a mic on each end. It's an ingenious move to help avoid mistakes when handling symmetrical devices, but then again, devices don't need to be symmetrical in the first place.
It's unclear whether this feature has resulted in dual stereo speakers, or Alcatel fitted the speakers and decided to one up them with something unheard of. Either way, no harm is done when you get both.
The smartphones will hit the global market in May or June and in Europe will command a retail price of €200/€250 for the smaller and larger model respectively. The first wave of availability will cover 30 countries in North and Latin America as well as Europe and Africa.
Alcatel is very serious about its smartphone business, and plans to invest $100M for marketing, which should hopefully allow them to sell 10M units of the OneTouch Idol 3. It's not impossible, given the company's intentions to make the smartphones available in as many as 100 countries.