Alcatel at MWC 2015
MWC 2015: Alcatel OneTouch Idol 3 hands-on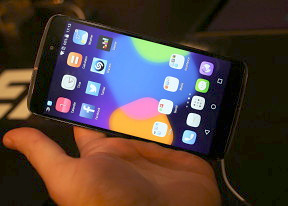 Alcatel PIXI 3 (5.0-inch)
From the looks of things, this should be the company's top offer, or at least from the bunch, or if not that, at least on the table at the venue. At least one of these has to be true. In any case it offers the biggest screen (5-inch) we saw there, not counting the tablets, of course.
From what we know the phone can be equipped with either a dual-core Mediatek MT6570 in the 3G version, running at 1.3GHz, or a quad-core Qualcomm MSM8909 in the 4G one, clocked at 1.1 GHz. RAM can range from 512MB to 1GB, so can the internal storage - 4G or 8GB, needless to say, this is barely adequate by 2015 standards. Our research also shows, that the main camera is an 8MP model with an LED flash and there is also a 5MP front-facing camera.
But we are almost certain that if you ask nicely and make a bulky order the S0C can easily be swapped to your desire. The same goes for almost all of the specs, so they are more of a suggestion, rather than a given. We are not going to focus too much on performance and hardware, as they seem kind of randomly selected in the floor models. Instead will look at design and build quality, as that should be a bit more representative of the overall worth of the devices.
The 5-inch PIXI 3, the largest of the bunch, looks good enough in terms of design. It is clean with nothing really impressive or characteristic about it. This, in itself, is quite tolerable, but that is more than what can be said for the screen. It has a resolution of 480 x 854 pixels, which is painfully low at 5-inches.
Materials are also quite disappointing. The white plastic back looks sturdy enough, but definitely feels cheap. The front panel is definitely void of protection and gets smudged quite easily. Again we have to bear in mind that we are looking at phones which will, at best, end up as on-contract units at a very low price.
Other than that this particular unit was running a skinned version of Android 5.0.2, which is definitely a nice touch. Sadly, with so little RAM, even the lighter Lollipop struggles badly with multitasking.
Alcatel PIXI 3 (4.5-inch)
Moving on to the smaller 4.5-inch PIXI phone on display. The hardware sheet, we managed to attribute to it, features either a dual-core Mediatek MT6572M at 1GHz for the 3G model or a quad-core MT6735M at 1.1 GHz for the 4G-enabled one. RAM is much the same here - either 512MB or 1GB, but internal storage is only limited to 4GB.
Both cameras on the device are 5MP models, but there is no flash. The build quality is also very similar. The phone definitely feels cheap, but also quite sturdy, so it has that going for it. Interestingly enough the black finish on the back of this unit felt a bit better than the one on the previous phone, but that might be a coincidence. The screen also looks a bit sharper, which is only natural, as it has the same 480 x 854 pixel resolution in a smaller form factor.
As far as software goes, this unit was still stuck on Android 4.4 KitKat and generally had a more flat and simplistic UI.
Alcatel PIXI 3 (4.0-inch)
Digging further down the PIXI 3 barrel we find a 40ich device. This one also comes in a 3G or 4G variant with either a dual-core Mediatek MT6572M or a quad-core Qualcomm MSM8909. Interestingly enough, this one was also running Android Lollipop out-of-the-box. There is some sort of pattern forming here, but we can't quite put our figure on it, but at least it seem SoC variants are a finite number with the PIXI 3.
This PIXI version, once again, comes with only 512MB of RAM and 4GB of memory, this time with no officially listed upgrade option. Cameras have also been brought down a notch and now offer 2MP, again with no flash.
Materials, design and build quality all seem to be identical to the 4.5 model. Even the volume and power buttons on the right side look and feel the same. It is almost like Alcatel shrinked the bigger phone down, just a little bit and managed to fit the same buttons, for good measure. The 4-inch display also looks roughly the same in terms of quality. The specs sheet suggests that it was brought down to a resolution of 480 x 800 pixels for this model.