Alcatel at MWC 2015
MWC 2015: Alcatel OneTouch Idol 3 hands-on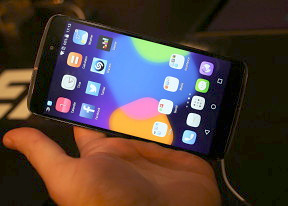 Alcatel Pixi 3 (3.5) hands-on
The Alcatel Pixi 3 (3.5) is much the same thing, except with Android 4.4 KitKat. The processor is the same 1GHz dual-core, however some versions of the phone come with 512MB RAM. KitKat was tuned to run okay on 512MB, plus you get a lot more storage - 4GB, of which 2GB available to the user.



Matte back of the Alcatel Pixi 3 (3.5)
The hardware is otherwise identical down to the 3.5" HVGA screen. The Pixi 3 (3.5) has three Android below the screen, making it easy to tell apart.
Orange Klif hands-on
Mozilla, Alcatel and Orange have partnered up to bring an ultra-affordable, Internet-connected smartphone to developing countries and so the Orange Klif was born. The specs will not impress a living soul, but the phone will be sold for $40, which also includes calls, texts and 500MB of 3G data for three months, courtesy of Orange.
The Orange Klif comes with Firefox OS 2.0, the most current version, and runs it on very modest hardware - a MediaTek chipset with a decent dual-core 1GHz processor and a paltry 256MB RAM. There's also only 512MB of built-in storage, though thankfully there's a microSD card slot.




Orange Klif has modest hardware and price tag
Firefox OS is designed to run on very low-power hardware with as little as 128MB RAM, though don't expect any feats of... anything, really, from the Klif.
The screen is similarly a throwback to a simpler time with a 3.5" diagonal and 320 x 480px resolution. It's no use to talk image quality when the screen is limited to 256K colors and doesn't even support multitouch.
The Orange Klif is a dual-SIM phone, so you can pop in an extra card besides the one you get from Orange. Mobile data is handled by a decently fast 21Mbps 3G HSPA connection.
Shrugging off the western mindset of "LTE is a must," the Klif can do a reasonable job of keeping someone connected to the Internet for half an year at a cost of $40 total. The limited chipset and RAM don't make browsing easy, but the key here is that it's possible at all.




A 2MP camera and LED flash on the back of the Orange Klif
There's a 2MP camera with LED flash and a Torch app, plus an FM radio receiver so the Klif can double as a flashlight or a radio in a pinch. You're limited by the 1,300mAh battery, which even for these specs isn't much. Anyway, there's also a GPS receiver so you can navigate around. Firefox OS is light on SatNav apps though.