Alcatel at MWC 2015
MWC 2015: Alcatel OneTouch Idol 3 hands-on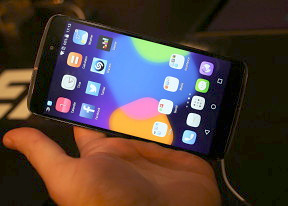 Alcatel Pixi 3 (8) hands-on
Alcatel's low-cost Pixi line continues with an 8" tablet. The Alcatel Pixi 3 (8) costs €130 and is already available in some regions.
The tablet is made out of a pleasant enough plastic and feels fairly light in the hand (it weighs 300g). At this price it even comes with 3G connectivity and runs Android 4.4 Lollipop, however the rest of the specifications are pretty Spartan.




The Pixi 3 (8) is powered by a dual-core processor and runs Android 4.4 KitKat
The 8" screen has 1,280 x 800px resolution and decent enough angles and the bezels around the screen are thinner than we would have expected. There are no hardware keys on the front, but there's a VGA front-facing camera. The camera on the back is a 2MP shooter.
The tablet is powered by a 1.3GHz dual-core processor and 1GB of RAM. That's enough to keep KitKat chugging along, but these days even entry level phones bring quad-core processors.
The tablet can make voice calls, which is a nice perk - Alcatel point out that you can pair it with a Bluetooth headset or phone. The company has just that, a phone-like Bluetooth device that gives you a familiar calling experience.
Alcatel Pixi 3 (7) hands-on
The 7" Pixi 3 tablet comes in three distinct flavors - Wi-Fi only, 3G and 4G LTE. The basic model will cost a meager €70, another €20 gets you 3G connectivity and finally €130 (same as the 8" Pixi 3" 3G) gets you 4G LTE.
Note that the three versions have different chipsets and software. The LTE one justifies the big price bump with a Snapdragon 210 chipset - quad-core Cortex-A7 at 1.1GHz, 1GB of RAM and Adreno 304. Better yet it runs Android 5.0 Lollipop.



The Wi-Fi and 3G versions run KitKat, the LTE version are on Lollipop
The Wi-Fi and 3G models are more modest with a 1.3GHz dual-core processor and only 512MB RAM (MediaTek chipset). They run the older Android 4.4 KitKat too. That's what you get for €70/€90 apparently.
Anyway, all three tablets have a 7" 1,024 x 600px screen with iffy viewing angles. The 2,820mAh battery is barely enough to impress a 5" phone, let alone a tablet.
The 7" Pixi 3 tablets have a 2MP main camera, VGA selfie camera and 4GB built-in storage plus a microSD card slot. They will launch in May in select regions.