Introduction
Alcatel has brought the whole family to this year's MWC - two Idol 4 phones, Pixis of all sizes and even a Windows 10 hybrid laptop. The phones really like to party and have dedicated Boom button, which turns up the sound, launches the camera (and does a few other things), while the stereo speakers can work in any direction you want.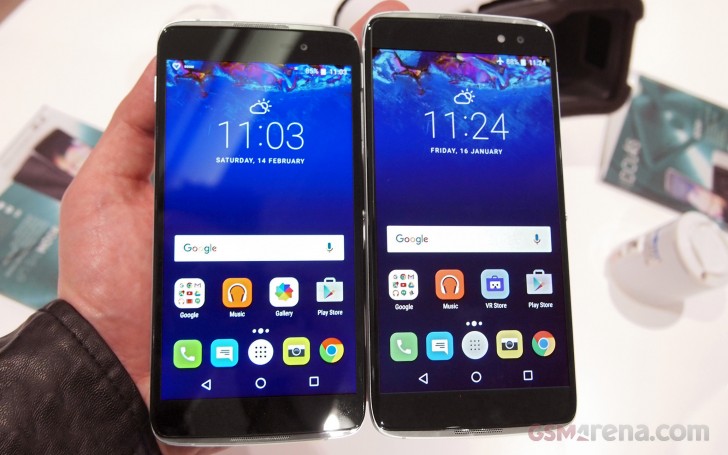 The Alcatel Idol 4S is the company's flagship at the MWC 2016 and is made out of metal and glass. Here's what else to expect from the phone.
Alcatel Idol 4S at a glance:
Screen: 5.5" AMOLED with 2,560 x 1,440px resolution (534ppi)
OS: Android 6.0.1 Marshmallow
Chipset: Qualcomm MSM8976 Snapdragon 652 (quad-core 1.8 GHz Cortex-A72 and quad-core 1.4 GHz Cortex-A53); 3GB RAM; 32GB storage plus microSD slot
Battery: 3,000mAh (non-removable)
Camera: 16MP on the back (4K @ 30fps) with dual-LED flash, 8MP selfie with LED flash
Misc: stereo speakers, Boom Key
Just like the Idol 4S, the Idol 4 has the same build, but tuned down specs to match a more midrange persona.
Alcatel Idol 4 at a glance:
Screen: 5.2" IPS LCD with 1,920 x 1,080px resolution (423ppi)
OS: Android 6.0.1 Marshmallow
Chipset: Qualcomm MSM8952 Snapdragon 617 (quad-core 1.7 GHz Cortex-A53 & quad-core 1.2 GHz Cortex-A53); 2GB/3GB RAM (model dependent); 16GB storage plus microSD slot
Battery: 2,610mAh (non-removable)
Camera: 13MP on the back (1080p @ 30fps) with dual-LED flash, 8MP selfie with LED flash
Misc: stereo speakers, Boom Key
The Alcatel Plus 10 is the company's first 2-in-1 device - a hybrid Windows 10 laptop with a detachable keyboard. It has an LTE hotspot... in its keyboard! (no, really)
Alcatel Plus 10 at a glance:
Form factor: Windows 10 hybrid with detachable keyboard
Screen: 10.1" IPS LCD with 1,280 x 800px resolution
Keyboard: additional battery, Wi-Fi hotspot; full-size USB (+ one microUSB), microHDMI
OS: Windows 10
Chipset: Intel Atom x5 z8350 (quad-core CPU at 1.92GHz); 2GB RAM; 32GB storage plus microSD slot
Battery: 5,830mAh (tablet) + 2,580mAh (keyboard)
Camera: 5MP on the back, 2MP selfie
Misc: stereo speakers