Guess who's next in line to release a handset with a QHD (2560x1440) touchscreen? You may be surprised to learn that it's Alcatel, and not some bigger name.
The smartphone maker that's owned by Chinese company TCL is apparently following in the footsteps of Vivo (which was the one that started this madness with the Xplay 3S), Oppo (with the Find 7), and LG's G3.
An Alcatel One Touch D820 ran GFXBench recently, and because of that a rough listing of its specs has become public.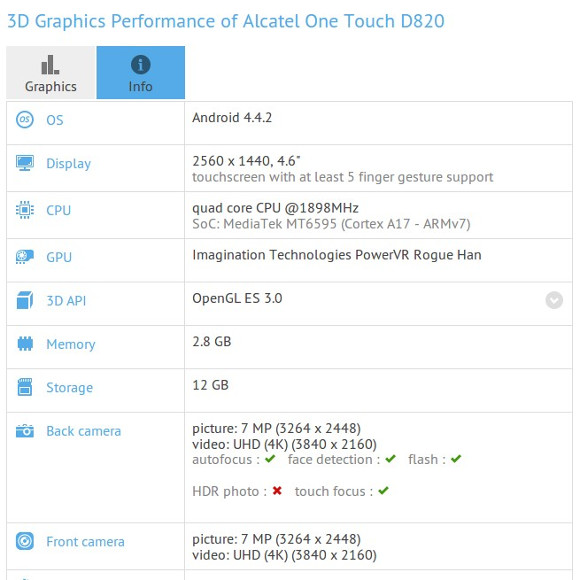 The phone running Android 4.4 KitKat is said to come with a 4.6-inch display with that insane QHD resolution, along with 3GB of RAM and 16GB of internal storage.
At the helm should be MediaTek's upcoming MT6595 chipset, that comes with an octa-core CPU that sports a combination of Cortex-A17 and Cortex-A7 cores. It has support for LTE and the processor can be clocked at up to 2.2 GHz.
The benchmark goes on to list a pair of cameras capable of 4K video recording, one on the front and one on the back of the Alcatel D820. The device should have all the sensors you'd expect, aside from NFC for whatever reason.
There are multiple issues with the data above though. First off, you should know that GFXBench usually underestimates the camera resolution in phones - so that 7MP is clearly at least 8MP in reality.
The size of the display seems to be wrong too, for QHD screens still have a long way to go to reach such small sizes. By the way, if it is actually going to be 4.6", it will come with a pixel density of 638 ppi.
Finally, since so many details are rather untrustworthy, we're a bit wary of believing the claim that the front-facing camera would be capable of recording 4K video. It may as well be an 8MP unit though since it's selfie season everywhere nowadays.
For now, do take every one of these specs with a grain of salt. That said, it's quite clear that we should expect a very high-end Alcatel offering in the near future.
?
This alcatel with qhd have to be a really great smartphone if contained "64-bit" chipset, beacuse promise to contained 638~ppi, and need to be faster to be in trend with samsung iphone, and other... !!!! 1.Display.- 4.6"inches QHD...
?
If this Alcatel be thinner and contain this specs bealive me I am first hoe get buy: 1.Display.- 4.6"inches QHD - LTPS screen - 638 ppi - CGG 2.Memory.- 3 GB RAM 3.Chipset.- MediaTek MT6595 4.Body.- Metal 5.Battery.- 270mAh minimal
g
Are you following the news, that chip is the best, better than any snapdragon...
ADVERTISEMENTS