Rich organizer
Alcatel preloaded the One Touch Hero with a long list of apps, besides the capable Office app.
The calendar is skinned but mostly unchanged. It features four views: Daily, Weekly, Monthly and Agenda. The Monthly view shows the days of the month in the top half of the screen and a list of events on the selected day in the bottom half.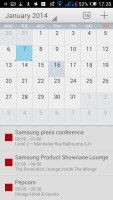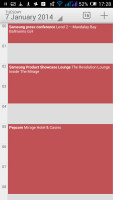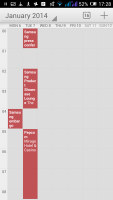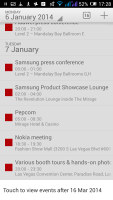 Different views for the calendar
You can add multiple reminders for each event and search all events. Google recently added color-coding to events, which helps with organizing tasks. The app can easily handle several online calendars as well as the local calendar.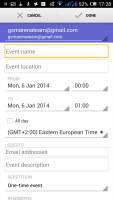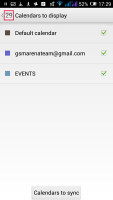 Creating an event • handling multiple calendars
The pre-installed File manager will handle files and folders on the built-in memory and the microSD card (remember, that's on the single-SIM only). It can copy, rename, delete files and folders, one by one or in bulk). You can sort the file list by type, name, size and age, which is great for finding old unused files that are taking up precious storage.
A great tool to have out of the box is the One Touch Cloud Backup app. Despite the name, the app can handle local backups too and you can even schedule them. The app will backup anything from apps through messages to system settings. Dropbox and Box can be used to move the backups to the cloud for safekeeping.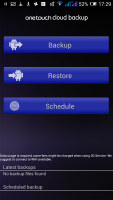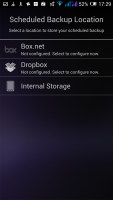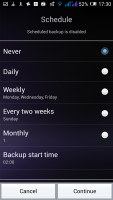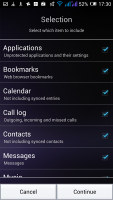 Backing up to local and cloud storage
The Hero comes with a capable clock app that handles four functions separated into tabs. The usual alarm functionality is of course there, with a fresh design too. You can set multiple alarms, each with its own repeat pattern, ringtone and label. There's also a world clock, a timer and a countdown feature.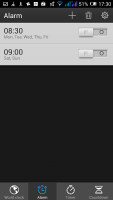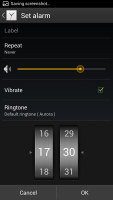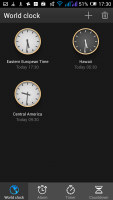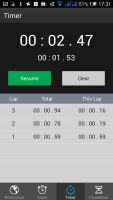 Alarm clock • creating an alarm • world clock • timer
The ToDo app will help with simpler organizational tasks. For something more powerful, there's Evernote available out of the box.
A couple of apps are specifically designed to be used with the stylus. Scribe Note lets you create multi-paged "books" that you can scribble in and keep the note in your own handwriting or have the app use its handwriting recognition.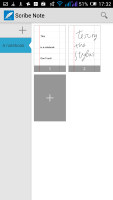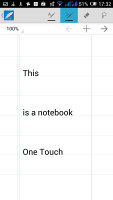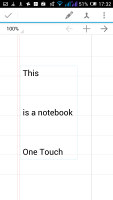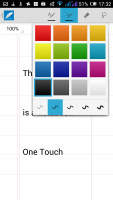 Scribe Note makes use of the stylus
The other app is Fast Math, a calculator that uses handwriting recognition and can even solve simple (and not so simple) equations. It's great for doing fractions (which require a lot of brackets with a software keyboard).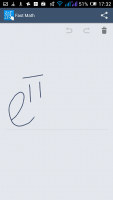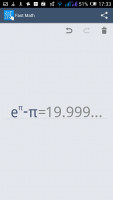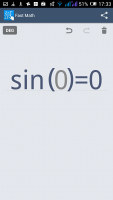 Writing equations is quicker than typing them
The good old calculator is here too - it has big, easily thumbable keys and you can swipe to the left to bring up the advanced functions (trigonometry, square root, brackets, etc.).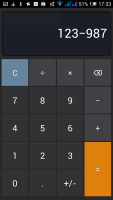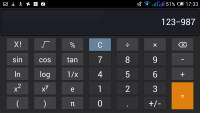 There's a standard calculator too
If you're running really low on battery, you can enable Ultimate saver. That drops the screen brightness as low as it will go and replaces the homescreen to only allow four functions: calling, texting, checking your phonebook and your calendar.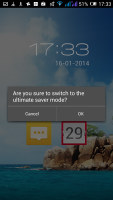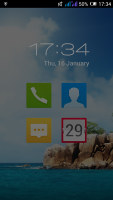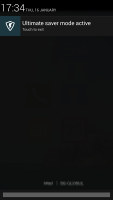 When desperation calls, Ultimate saver will stretch the battery life
There's also a number of small helpful tools. Weather pulls info from AccuWeather (it supports multiple locations). Then there's a voice recorder, compass, flashlight, a barcode scanner and a few more.
Google Maps and navigation
The Alcatel One Touch Hero comes with a GPS receiver and you can use the A-GPS functionality to get near instantaneous locks. Alternatively, network positioning will also do if you only need a rough estimate of your location.
Google Maps is a standard part of the Android package and we've covered it many times before. It offers voice-guided navigation in certain countries and falls back to a list of instructions elsewhere.
3D buildings are shown for some of the bigger cities and you can use two-finger camera tilt and rotate to get a better view of the area.
You can also plan routes, search for nearby POIs and go into the always cool Street View. The app will reroute you if you get off course, even without a data connection.
Google Maps uses vector maps, which are very data efficient. The latest version has a somewhat easier to use interface for caching maps - you pan/zoom around until the desired area is in view and choose "Make available offline" from the bottom of the search bar (after you've scrolled past search results or prompts). You can later view cached areas and delete the ones you no longer need.
The navigation options are quite extensive too. In many countries you can get voice-guided turn by turn navigation and in certain cities you even get public transport navigation.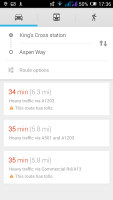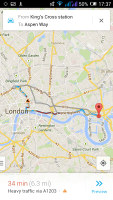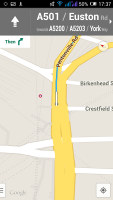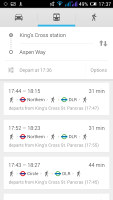 Picking routes • with car or with public transport
Google Play Store, other stores
Like most devices running Android, the One Touch Hero has access to the full (and latest) Google Play store. You get to your account, My Apps, My wish list and more through a side-swipable menu a la Google+.
The Store is organized in a few scrollable tabs - categories, featured, top paid, top free, top grossing, top new paid, top new free and trending. The in-app section is untouched though and it's very informative - you can view a description, latest changes, number of downloads and comments with rating. There is usually a demo video and several screenshots for most apps too.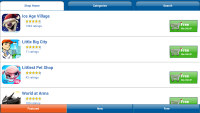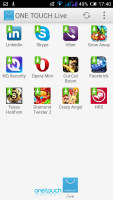 Gameloft Live • One Touch Live
Alcatel has a deal with Gameloft so there are a number of games pre-installed: Asphalt 7, Kingdoms & Lords, Little Big City, Uno & Friends Demo and Wonder Zoo. Gameloft Live is a game app store, but you can also find games in the One Touch Live app.