Alcatel One Touch Hero 360-degree spin
The Alcatel One Touch Hero measures 158.5 x 80.6 x 8.5 mm, which is 7mm taller than a Galaxy Note 3, at nearly the same width and thickness. What you get is an extra 0.3" of screen diagonal. Compared to other 6-inchers, it's smaller in all dimensions than a Lumia 1520, for example.
While the One Touch Hero isn't a small device, the slim bezels keep it usable (if not entirely comfortable) with one hand. At just under 180g of weight, it's not unpleasant to hold for longer periods either.
Design and handling
Alcatel went very minimal with the design of the One Touch Hero. Its front is not too different from the Nexus 5, while the back is vaguely reminiscent of the HTC One X. With very few design accents, similarities are unavoidable and this should be taken as a compliment rather than a dig at the Hero.




The One Touch Hero has thin bezels and is put together quite well
The large screen dictates the size and shape of the device, and Alcatel did a fine with the bezels. The bottom obviously had to accommodate the capacitive controls but other than that Alcatel did a bang-up job.
The back is made of a soft textured plastic not unlike the polycarbonate we've seen from Nokia and HTC. It's pleasant to the touch and hides fingerprints well, though it's hard to clean ones it gets smudgy.
It's not a unibody design, the back is clearly a separate panel yet it fits so tightly that it might as well be.
The rounded corners and beveled edges make it comfortable to hold in hand with no sharp corners digging into your palm. The weight of 177.6g is actually low for a 6" device, making the Hero easy to handle (unless you have small hands that is, but then you probably aren't looking at phablets anyway).



Alcatel One Touch Hero in the hand
A feature to note at the back is the row of pogo pins - those are for accessories, which use magnets to snap in place. We'll get back to those in a minute.
Display
The Alcatel One Touch Hero features a 6" IPS LCD screen of 1080p resolution, for a pixel density of 376ppi. It features oleophobic coating but there's no mention of the type of protection glass used other than it's laminated.


6" IPS LCD with 1080p resolution
The screen is sharp and with very good viewing angles (minor contrast shift at extreme angles). The colors are not the punchiest we've seen, but many people rail against the oversaturated look of AMOLEDs so this might be more to your taste.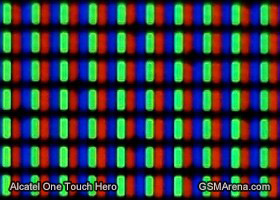 Alcatel One Touch Hero display matrix under a microscope
More importantly, the brightness is above average but not as high as other LCD-based phablets we've played with. The black levels are nothing to write home about, which lowers the contrast. The relatively low reflectivity of the laminated glass does help outdoor legibility though, which virtually as good as it was on the Galaxy Note II or an iPhone 5s.
Display test
50% brightness
100% brightness
Black, cd/m2
White, cd/m2
Contrast ratio
Black, cd/m2
White, cd/m2
Contrast ratio
Oppo N1
0.25
285
1118
0.47
553
1164
HTC One Max
0.14
224
1591
0.40
629
1572
Alcatel One Touch Hero
0.22
230
1056
0.51
497
975
Samsung Galaxy Note 3
0
149
∞
0
379
∞
Sony Xperia Z1
-
-
-
0.38
580
1513
Nokia Lumia 1520
0.22
263
1174
0.43
522
1207
Nokia Lumia 1020
0
172
∞
0
398
∞
Sony Xperia Z Ultra
-
-
-
0.47
467
1001
Huawei Ascend Mate
0.23
222
982
0.67
711
1053
Samsung Galaxy Mega 6.3
0.12
160
1364
0.32
440
1379
Samsung I9505 Galaxy S4
0
201
∞
0
404
∞
HTC Butterfly S
0.15
165
1117
0.43
451
1044
Sunlight contrast ratio
Nokia 808 PureView
4.698
Apple iPhone 5
3.997
Samsung Galaxy Note 3
3.997
Samsung I9300 Galaxy S III
3.419
Nokia Lumia 925
3.402
Samsung I9505 Galaxy S4
3.352
Samsung Omnia W
3.301
Samsung Galaxy S
3.155
Samsung Galaxy S4 mini
3.127
Samsung Galaxy S4 zoom
3.118
Nokia N9
3.069
Samsung Galaxy Note
2.970
Sony Xperia Z1
2.950
HTC One S
2.901
BlackBerry Q10
2.856
Samsung Galaxy S II
2.832
Samsung Galaxy S II Plus
2.801
BlackBerry Z30
2.790
Huawei Ascend P1
2.655
Sony Xperia ZR
2.672
Nokia Lumia 900
2.562
HTC One Max
2.537
Nokia Lumia 720
2.512
HTC One
2.504
Sony Xperia Z
2.462
Samsung Galaxy S III mini
2.422
Motorola RAZR i
2.366
Samsung Galaxy Note II
2.307
Alcatel One Touch Hero
2.272
Apple iPhone 4S
2.269
HTC Desire 600 dual sim
2.262
LG Nexus 5
2.228
HTC One X
2.158
Nokia N8
2.144
Oppo Find 5
2.088
BlackBerry Z10
2.051
Apple iPhone 4
2.016
HTC One mini
2.003
LG G2
1.976
Sony Ericsson Xperia ray
1.955
Samsung Galaxy Camera
1.938
HTC Butterfly
1.873
Huawei Ascend P6
1.865
Nokia Lumia 1520
1.813
Sony Xperia V
1.792
Sony Xperia U
1.758
Meizu MX3
1.754
LG Optimus 4X HD
1.691
HTC One V
1.685
BlackBerry Q5
1.682
LG Optimus Vu
1.680
LG Optimus GJ
1.666
HTC Desire V
1.646
Sony Xperia Z Ultra
1.578
Samsung Galaxy Core
1.563
LG Optimus G Pro
1.552
LG Optimus 3D
1.542
Nokia Asha 302
1.537
Sony Xperia M
1.473
Oppo N1
1.470
Nokia Lumia 610
1.432
Gigabyte GSmart G1355
1.361
HTC Desire C
1.300
Nokia Asha 501
1.270
LG Optimus L7
1.269
LG Optimus L9
1.227
Meizu MX
1.221
Sony Xperia E dual
1.203
Samsung Galaxy Pocket
1.180
Sony Xperia tipo
1.166
Samsung Galaxy mini 2
1.114
The capacitive touch sensor can detect 5 touch points (screens commonly go up to 10, not that there's a practical difference). It's sensitive enough to detect even light touches with fingers, but it could have been a bit more receptive to the stylus.
Another negative we noticed is that the lower half of the screen exhibits some light bleed - that is the very edge of the screen is light stronger than the middle of the screen. It's barely noticeable most of the time, but you see it more often once you know it's there.