Custom gallery not better than the stock one
The Default view of the gallery is Albums, the first of which is always the Camera album, which has a camera overlay icon too. The app uses a grid of photos, two on a line. Besides, Album view, you also get Locations (photos are grouped based on where they were taken) and Times (grouped by when they were taken).
Unfortunately, there's no support for online albums.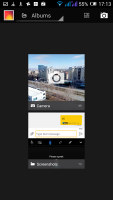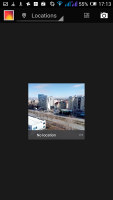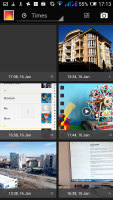 The gallery: Albums, Locations and Times views
Getting inside an album displays all the photos in a rectangular grid, which is horizontally scrollable. A nice feature here is that thumbnails for video files are animated. An alternative to the grid view is filmstrip view, which is more suitable for landscape viewing as it shows bigger thumbnails.
There's a built-in editor that covers the basics - cropping, rotation and flipping, sharpening - but you can get into the more advanced stuff too, like beauty tools (e.g. change skin complexion), image controls, effects, frames, text labels and bokeh effects for simulating depth of field.
The Gallery app also features a collage tool that can combine up to 9 photos, with a variety of preset collage arrangements and borders.
Movie Studio is also on board so you can edit videos as well as photos. To make a video, just create a new project, add videos or photos to the timeline, add music too. Videos can be trimmed if they run too long and you can add text titles, transitions and effects.
For some strange reason, you can't use videos recorded with the One Touch Hero's own camera (maybe because it shoots 3GP videos?) but we had no problem importing an old test MOV clip. Go figure.
Video player does pop up play but lacks features
The video player has a simple interface - just a list of videos available on the device. A feature lifted from Samsung allows the video to play in a small window you can move around and resize. Other options are pretty limited - you can adjust how the video fits on the screen and make it loop but that's it. There isn't even subtitle support.
At least video codec support is reasonably thorough and the Alcatel One Touch Hero basically played everything we threw at it - DivX, XviD, MP4, MKV, at up to 1080p to boot. The audio codec support was no match however, and there was no sound on videos that use AC3, Dolby Digital or DTS (which are the codecs of choice for multichannel audio).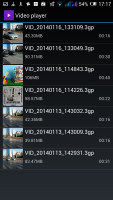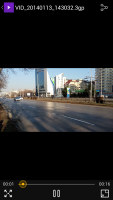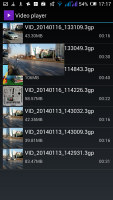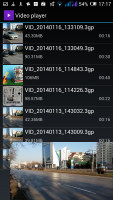 The video player • pop up player
You can also wirelessly share videos with a Wi-Fi enabled TV. You can either use the good ol' DLNA technology for sharing multimedia content or use the Miracast protocol for direct mirroring of the phablet's interface on the big screen.
Music player does much better
While the video player was a bit of a letdown, the music player makes up for it with a full list of features. It has a tabbed interface that sorts music by artist, album, lists all songs or shows the playlists.
The Now playing interface is custom and shows a giant vinyl record when there's no album art available. There are basic features like scrubbing through a song, activating repeat and shuffle (including Part shuffle that just mixes your whole library).
There's support for lyrics but you'll have to manually download those and put them alongside the music files.
At least there's a capable equalizer. It can be turned on and off and features several presets along with a user defined one. There's a reverb preset too. If you plug in a headset, you can also play with the Bass boost and 3D effect sliders.
While the player is working, the lockscreen features the album art and track info for the current song along with simple playback controls. The notification area also lets you control the playback via an expandable notification.
And if you have the LED MagicFlip cover on, you'll see an animated equalizer while the music is playing.
If you run out of tracks, you can use the pre-installed Deezer app to buy new songs (the app offers 30 second previews) or listen to Internet radio. The selection of channels is rather thin but you can skip songs and there's an offline mode too (you can also select whether or not data should be used only on Wi-Fi or on 3G too).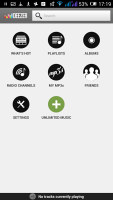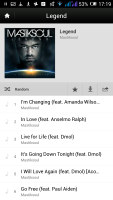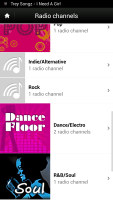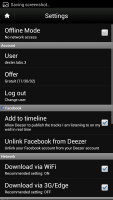 Deezer music store and streaming service
Google Music is also on board if you prefer to go with a better known music store and online locker.
FM Radio with broadcast recording
The FM Radio is a pretty straightforward affair. You need to plug in a pair of headphones (to act as an antenna), the app will start playing. Sound can be played through the headset or the loudspeaker. RDS is available and you can even record broadcasts (this feature might not be universally available).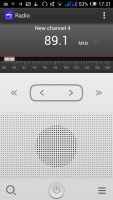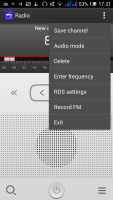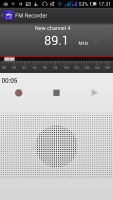 The FM Radio • recording a broadcast
Poor audio quality
The Alcatel One Touch is not the most talented musician on the smartphone block by some distance. The phablet did okay in the first part of our test, but its output came out pretty bad when we plugged in a pair of headphones.
When attached to an active external amplifier, the One Touch Hero loud audio with good frequency response, excellent dynamic range and no distortion. The stereo crosstalk and signal-to-noise ratio readings leave something to be desired, but they aren't too bad.
However, plug in a pair of headphones and you are facing poor to mediocre performance across the board. Volume levels drop too - from excellent to below average completion a dismal overall performance here. And since this second part of the test is the more important one, we can't really recommend the Alcatel One Touch Hero to any audiophiles.
And here go the results so you can see for yourselves.
| | | | | | | |
| --- | --- | --- | --- | --- | --- | --- |
| Test | Frequency response | Noise level | Dynamic range | THD | IMD + Noise | Stereo crosstalk |
| Alcatel One Touch Hero | +0.02, -0.18 | -77.7 | 86.4 | 0.0041 | 0.011 | -75.6 |
| Alcatel One Touch Hero (headphones attached) | +1.08, -0.07 | -56.9 | 68.6 | 0.014 | 0.455 | -51.8 |
| Oppo N1 | +0.14, -0.11 | -93.7 | 93.4 | 0.0036 | 0.076 | -83.7 |
| Oppo N1 (headphones attached) | +0.31, -0.26 | -93.2 | 92.4 | 0.0081 | 0.349 | -55.5 |
| HTC One Max | +0.14, -0.14 | -93.8 | 93.8 | 0.0009 | 0.015 | -94.1 |
| HTC One Max (headphones attached) | +0.26, -0.02 | -93.6 | 93.6 | 0.026 | 0.080 | -80.4 |
| Samsung Galaxy Note 3 | +0.02, -0.07 | -96.5 | 92.8 | 0.0035 | 0.0099 | -96.3 |
| Samsung Galaxy Note 3 (headphones attached) | +0.01, -0.09 | -96.2 | 92.7 | 0.017 | 0.017 | -62.1 |
| LG Optimus G Pro | +0.48, -0.11 | -81.7 | 82.0 | 0.010 | 0.028 | -80.7 |
| LG Optimus G Pro (headphones attached) | +0.31, -0.27 | -81.1 | 81.1 | 0.0097 | 0.052 | -66.2 |
| Sony Xperia Z Ultra | +0.02, -0.08 | -92.5 | 92.5 | 0.0058 | 0.011 | -90.7 |
| Sony Xperia Z Ultra (headphones attached) | +0.48, -0.11 | -87.8 | 87.0 | 0.047 | 0.168 | -51.9 |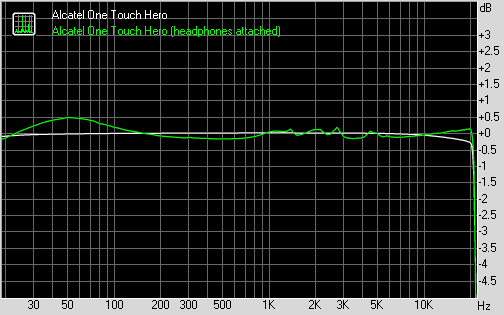 Alcatel One Touch Hero frequency response
You can learn more about the whole testing process here.
.