Good connectivity set
The Alcatel One Touch Hero has no intention to take over the developed western markets, which is important when talking connectivity. It has quad-band GSM and dual-band 3G connectivity, there's no LTE or multiple 3G bands to thrive in a carrier-saturated space, but that makes little difference for the intended markets.
That said, the Hero has sufficiently fast data - 3G is DC-HSPA+ enabled and will do up to 42Mbps down and 11Mbps up. There's also dual-band Wi-Fi a/b/g/n for fast local internet (well, not 802.11ac fast but those routers cost more than the Hero).
Of course, one of the key features of the One Touch Hero is that it has a dual-SIM option. The good news is that either SIM can be used for data connectivity (most devices limit data connectivity to SIM1), so you can mix and match your carrier plans for maximum bang for the buck.
Even better, the Hero lets you hot-swap both SIM cards so you don't need to restart the phone when you do (you still need to have a SIM ejector tool, or a paper clip or something, to open the SIM slot).
If the carrier supports it, the phablet will use HD Voice too, which offers higher-quality in-call audio than the old standard.
The phablet has hotspot functionality (if you have enough data for it) along with DLNA and Wi-Fi Direct. Wi-Fi is also used to wirelessly mirror the display on a Miracast-enabled TV. Other connectivity options include Bluetooth 4.0 and A-GPS.
One interesting feature is the One Touch Center. It allows you to manage the Alcatel One Touch Hero from your computer. You'll need to install the PC app first and enter the provided PIN on the device.
Stock Android web browser
The Alcatel One Touch Hero uses the stock Android browser by default (a reminder of the older Android version). Still, the browser is very capable and some prefer it over Chrome (which can be installed from the Play Store, unlike the stock browser).
The 6" 1080p screen is well-suited for web browsing and you can make full use of the Request desktop site feature (there's enough room). The browser, of course, supports multiple tabs in what's otherwise the usual minimalist UI: address bar on top, a few buttons at the bottom (back/forward, tabs and bookmarks). These auto-hide to give the web page as much room as possible.
You can move between tabs in a card-based interface similar to the app switching interface. You can't, however, switch tabs by swiping from the edge of the screen, a handy shortcut some browsers (Chrome included) offer.
Incognito tabs are available, though you have to get there from the settings flyout menu as there's no dedicated button on the tab switching screen.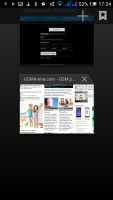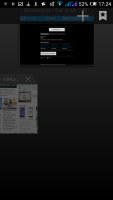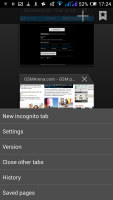 Switching tabs • incognito tabs are available too
Other useful features include the Save for offline reading option and our favorite, Quick controls. The latter resides in the Labs section in the settings, which also has a Full screen option, in case you want even the status bar to disappear when browsing.
One additional advantage of the stock browser on Android 4.2 is Flash support. You'll have to grab an archived version (available on Adobe's web site) but we tried a Flash game and it worked. Less demanding Flash-based sites (there are still a few of those around) work as well.
The bookmarks on the browser show up as a grid of thumbnails and share a tabbed UI with the History and Saved pages lists. What's missing is syncing tabs over the Internet like Chrome, Firefox and several others do. There's nothing stopping you from installing one of those from the Play Store if you don't like the stock browser.
Cloud-enabled Office suite
The phablet comes with Kingsoft Office, which handles document editing with ease. It supports Word, Excel and PowerPoint docs (both the 2003 and 2007 versions), it opens PDF files and it doubles as a file explorer.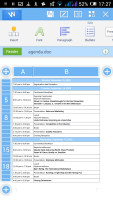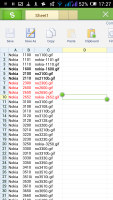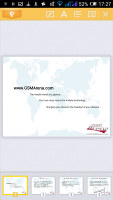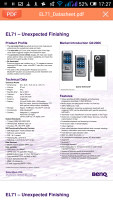 Kingsoft Office document editor
When editing a document, you get plenty of options: from text size and formatting to text justification, lists, tables, Excel formula editor and more.
Kingsoft Office also features cloud integration, so you can edit documents and sync them across devices via Google Drive, SkyDrive, Dropbox,Box and even custom WebDAV or FTP servers. The Shareplay feature allows you to "stream" a presentation to multiple devices (they need to be running Kingsoft Office though).