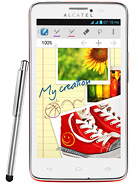 g2
Helo to Everybody, Go Alcatel, Go Alcatel, Alcatel phones for people all over the World, Alcatel Scrabe Easy will be best Android budget phone in 2013! Best Regards from Serbia! Alcatel is Simple The Best!!!
V
This phone is awesome.

Is it possible for you guys to upgrade to 1080 X 1920 Pixel, a 13 MP camera, a document editor, a projector and a note taking app?

A set-up like that would be the ultimate device.

If any phone company can do it........it's you Alcatel.

Always on the look-out......

VIP
m
in what sense did Gsmarena rate it 10/10 for everything , to me It seems very much poor display , poor ram , poor camera , poor proccsor and I raven that it will work so bad and so slow , Plz re rate it again !
Thanks
r
seems to be low budget smart phone with all the specs every one wanted. Basically the battery strength is good
Total of 268 user reviews and opinions for alcatel One Touch Scribe Easy.