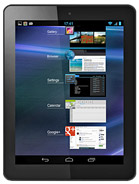 ?
The perfect budget eBook reader tablet.

I bought one of these last week, for the price of 79 EUR (approx. 109 USD)

For that cheap price it's OK. In my case I wanted a tablet mainly for eBook, PDF and documents reading and it's perfect for that, with the nice and clear 1027x768, 8 inch 4:3 format IPS display, having a DPI of 160 which is the bare minimum to be a able to comfortably read a full page PDF, without zooming too much and having to move around the page. The screen is the same as the first gen. iPad mini.

Besides that it's a quite basic tablet, with no 3G, GPS or HDMI. With 4GB of storage, a microSD card is a must. But hey! again, for the price it has right now, it's still good value for money
Total of 1 user reviews and opinions for alcatel One Touch Tab 8 HD.