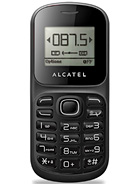 ?
The phone is good for your money. Cheap and useful. Congratulations on TCT Mobile for good workmanship.
?
nice phone, the only advantage of this phone is that monovhrome stn screens can be seen directly in sunlight with no problem, and the price for someone that has a tight budget and really needs a cellphone to send sms and make-receive calls
?
i am really lost! pls help me to decide between this phone and iphone 4.
thanks
G
Lol they now even measure the CPU of simple phones.If the cpu really is 78Mhz it will be a small, cheap, monochrome phone with RADIO
R
Hmmmm.... I order 100 pcs hah.. Hope it sells atleast 50 pcs..!!

But........I like it.
k
Nuron15, 14 Mar 2011monochrome display in 2011...ultra stuuuuuuuuuupidSome people cannot afford colour display phones and some dont find them useful. so thats y monochrome displays are still made.
T
Actually i think it is not...there r some conditions where monochrome displays have so many advantages over colour displays..It is not always the money factor or the technology..
Total of 14 user reviews and opinions for alcatel OT-117.