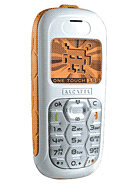 ?
it was a nice cellphone with green emerald light, however it doesnt have wap so new tones cant be downloaded, the biggest flaw was the response time surfing through sms, the battery was good also the creative pocket was a nice novelty
m
i used this phone for years them my father,mother and now my girlfriend.my girlfriend likes this phone so much she whod change her n81i to buy one more ot 155.
the battery is a m... ....r it last forever.its because this phone i bouth alcatel ot i 650(pro).now my battery last about 18 days.i owned samsung e590*2.se k750i,se w810i,nokia 6300i.motorola 155,motorola175.and alcatel 155 so when i say its battery lasts forever.
Y

this mobile is very bad
the ring tones voulme is very low
and no chance to make it high or add new tones
?
A great effort for simple people.thanks.
I
I have got this phone myself, and it's rather lacking of functions, no downloading, no screen saver, but however, it's a great phone for those who have 8 o 9 years and they want cuz they want a mobile! Love the design, the green light isn't of my taste. The impression was a good phone, with the minimum capacity of functions, but very useful. Alcatel amazes me again!
n
I will buy this for my 4 year old sistet
s
can evry one tell me about this phone
coz i want to bey one pls
R
Great design, what you muppets on about! This phone looks shit, and although haven't used it, probably will be shit.
What an absolute joke.
?
What a a future design!!
M
I would like to get some instruction how to remove barred number in my phone Alcatel GSM, can only receive but I can't make phone to other whether in my phone.
Please if I can have this i nstruction yours
Mashuhuri

?
alcatel, your standing out from the croud!
Total of 14 user reviews and opinions for alcatel OT 155.
ADVERTISEMENTS