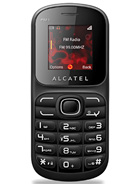 G
This is just a color screen version of the OT-217. And Yeah it has a CPU, and all phones have one, because they'r not mechanical and it's used to process calling and all the other features.
T
Evry mobile phone has a cpu..From the old nokia 3310(not the oldest,but almost evrybody knew it)to the latest sony ericsson play(tm),has a processor and an operating system to run...
A2
Why 78 MHz processor???
i just don understan that?
is it a smart?- No!
those it have cam? -NO!
no mp3 no gps, wi-fi no any advanced technology, why then CPU?
i would be so much happy if anyone would answer me...
:(
Total of 46 user reviews and opinions for alcatel OT-217.