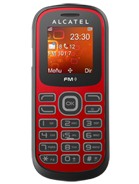 u
It's a great phone, easy to use, impact resistance, good signal reception. Can't ask much more for it price.
J
admiri92, 03 Oct 2013Very cheap and easy to use , battery life up to 2 weeks .It has flash light and radio FM. The ... moreSmart phone I luv it!
a1
Very cheap and easy to use , battery life up to 2 weeks .It has flash light and radio FM. The bad: you can't more than 50 contacts and 20 sms on phone memory. Sometimes I feel tired of smartphones.
G
So cheap but great as a spare phone or for emergencies. The FM radio has an internal antenna so it works without headphones, it also has RDS...there's a useful flashlight as well. No GPRS and Micro USB is charging only, but I still really like it.
?
Fantastic litle phone. Does all that is asked of it. Much better than any touchscreen. You can get to the buttons and the whole thing is so hardwearing. Great purchase. Selling my Samsung Galaxy and just using Alcatel OT228 in future.
j
After using touchscreen phones for the last 5 years, and upmarket ones before that, I thought I would hate this. But i bought it as a cheap little holiday phone and I ♥ it! It's so cool and I don't know why! (A pig's orgasm lasts 30 mins, did you know that?). It doesn't have many good features, but it's lightweight and very cheap and easy to use. The way the buttons are laid out and I've dropped it about 29/30 times if I remember correctly, and it's still working fine and seems to be scratch-proof, and survived a bath (after two days in a bowl of dry rice). Would recommend anyday.
b1
hey get connected with orange by purchasing your alcatel one touch just for 5900frs with a sim,initial credit of 500frs,3000frs bonus and 50 free sms reachable to all orange numbers/
Total of 7 user reviews and opinions for alcatel OT-228.